Smethport Web — by Les Jordan, Jr.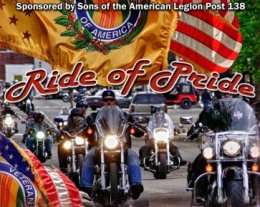 Every year since the Moving Wall visited Smethport in 2006, there has been a "Ride of Pride" early in June. The Ride traces the route taken by the giant motorcycle cavalcade that accompanied the truck transporting the Moving Wall into McKean County.
The yearly ride will be on June 2 and begins at the Smethport Legion with the staging area starting at 10:00 a.m. The actual Ride will leave Smethport at 11:30 a.m. and will follow a route to Warren, then to Pigeon north of Marienville where the first ride originated. The Honor Ride, a tribute to Vietnam Veteran's, then proceeds to Smethport and a ceremony on Hamlin Lake Island where the Moving Wall was located in 2006.
After the Ride and ceremony, there will be food available for free to participants of the Ride at the Smethport American Legion on Main Street, compliments of the Sons of the American Legion, who are sponsors of the event.
The annual Ride of Pride has become very popular.