Smethport Web — by Smethport Heritage Council
Members of the Potato Creek Trail Association met with Spring Reilly of the Pennsylvania Fish at Boat Commission on Friday. Reilly serves the commission as the Central Regional Outreach & Educational Coordinator within the commission's Bureau of Policy Planning & Communications.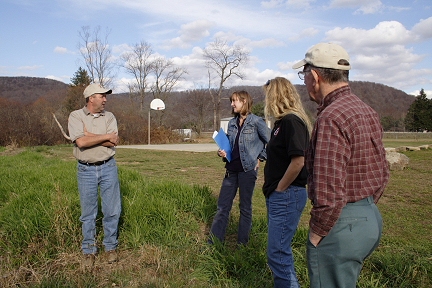 Left to Right: Waterway Chairman Kurt Weaver, Spring Reilly of the PA Fish and Boat Commission, Trail Association President Sally Newton, and Trail Association Director Corky Hull.
The Potato Creek Trail Association was represented by President Sally Newton, Water Trail Committee chairman Kurt Weaver, and Board Director Corky Hull. The meeting began at the Crosby baseball park and toured several sections of Potato Creek.
Reilly and association members discussed possible improvements such as boat ramps and picnic/camping areas. Other topics of discussion included the formulation of trail objectives, state assistance for trail improvement, and sources for grants from the Fish and Boat Commission along with other state agencies.
Many informative brochures were distributed to association members along with maps and state guidelines for boat launch facilities.
According to Reilly, the Potato Creek Trail Association has been successful in planning and developing the organizational structure required to qualify it for commission assistance.
Members of the Potato Creek Trail Association receive tips for improving waterways for boating activities on Potato Creek which flows to the Allegheny river at Larabee.