Smethport Web — by Janene Dunn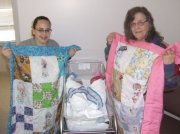 Pam Dailey, right, presents Mindy Bickford of Smethport with handmade baby quilts. Dailey makes the quilts in memory of her daughter who passed away in 2004 and gives them to a baby girl born closest to her daughter's birthday, January 16, at Charles Cole Memorial Hospital.
This is the first year that a baby girl has been born on that day. When Dailey found out the baby girl, Shya, had a twin brother, David, she made a second blanket and was able to present them in person.