Smethport Web — by Nathan Muller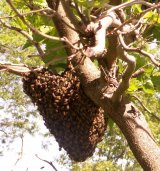 Scientists, farmers and beekeepers have been expressing alarm in recent years over the apparent disappearance of bee colonies across North America. The situation goes far beyond a few bees here and there and threatens the pollination of fruits, grains, and vegetables.
According to news reports, at issue is American agriculture itself. Most orchards, fields of grain, and vegetable crops are pollinated by honeybees. And both milk and meat come from cows that munch on grain. If honeybee populations continue to disappear in such large numbers, it could have a devastating effect on crop yields — ultimately leaving every dinner plate in America empty.
Catastrophe abated
Honeybee hysteria may have been dealt a knock-out blow by a recent finding in Smethport, Pennsylvania that has the science community buzzing.
On the corner of Main and Marvin Streets there is — no fooling — a B&B where proprietors Ross and Jovanna Porter discovered an estimated 30,000 vacationing pollinators occupying a makeshift structure on their property.
Feeling a bit uneasy about the guest-to-proprietor ratio, Ross called in the experts for help: Ryan Yingling and his father Doug who is a master beekeeper.
Donning protective gear, the team went to work looking for the queen bee in the 4 pound mass of honeybees. With the queen and some bees gently coaxed into a cardboard box, the other bees eventually followed. When the transition from nest to box was completed, the bees were safely removed from the property for relocation elsewhere.
So the mystery of the missing bees is really no mystery at all — honeybees today simply prefer the better accommodations of an upscale B&B rather than the white box and drawers to which they have been traditionally consigned by their human masters.