Smethport Web — by Nathan Muller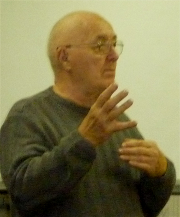 Dr. Michael Schultz, a former teacher of 30 years and author of "In the Shadow of the Trees", was the featured speaker at the annual fall dinner meeting of the McKean County Historical Society held on October 16 at the United Christian Church in East Smethport.
Dr. Schultz chronicled the development of Franklin D. Roosevelt's Civilian Conservation Corp — the subject of his book — and the impact of the 165 CCC camps located in Pennsylvania.
He credited the 16 CCC camps in the Allegheny National Forest region with helping to reestablish local forests after decades of aggressive timber harvesting that left many areas so completely barren that it was thought they would never recover.
You can listen to the entire 55-minute presentation of Dr. Schultz now or download the audio file for playback on your mp3 player or iPOD.