Smethport Web — by Barbara Bowman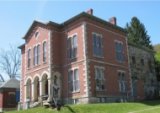 McPaint Time is a fun, relaxing way to socialize while being creative. During McPaint Time attendees complete an acrylic painting in two hours or less. You may make new friends and find a new hobby.
The first venue for McPaint Time was the Corner Pizza Company, Smethport. Ten people attended and painted a 10×10 acrylic painting of a cone flower. Some artists decided to paint their own creation: a door, an abstract, and a chicken. It was a blast and a lot of creativity was found!
The Two Mile Inn, Port Allegany, was the second venue for McPaint Time. Bob Raudenbush led twelve artists in painting a landscape, Four Trees. These trees are located in Turtlepoint on Champlin Hill Road. Everyone created a unique 12×16 painting to take home and display.
The next McPaint Time is June 30, 6:00 P.M., at Kabob's, the former Option House, Main Street, Bradford. The subject will be a 10×10 acrylic of a Pennsylvania Sunflower. Barbara Bowman will be the leader.
The fourth event takes place at Olde School House Shoppes, Indian Creek Road, Eldred, July 10, 6:00. The Shoppes will remain open and dinner will be available for a fee. Kate James will be the instructor.
The fifth McPaint Time experience will take place at the McKean County Fair, August 12 from 1 -4. No reservations are necessary for this event. A variety of small paintings can be completed.
August 13 the adventure is scheduled at the Port Freeze, Port Allegany with a McPaint Craft Time, featuring experienced and creative crafter, Carla Sabin. The craft has not been determined.
Artist, Judy Leasure, will guide participants through a project soon. Time and place will be announced.
To register for any of these events, please call the McKean County Historical Society, 814-887-5142. There is a charge for each McPaint Time experience.
McPaint Time is sponsored by the McKean County Historical Society with funding from the Bradford Area United Way. If you are interested in hosting us at your establishment, please call the Historical Society at 814-887-5142.