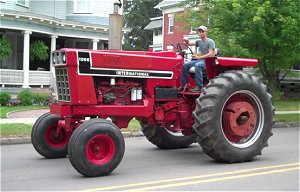 Smethport Web — by Nathan Muller
The 112th McKean County Fair in Smethport, PA opened with AG Weekend on Saturday morning, featuring a tractor parade from the Isadore family farm to Main Street, and then on to the fairgrounds. This was followed by tractor games in the afternoon.
About 50 tractors participated this year from communities throughout the county. The fair, which runs from August 12 to 19, includes shows and demonstrations, competitions and contests, musical entertainment, rides, and plenty of food.