Smethport Web — by Nathan Muller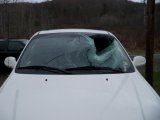 Smethport resident Jeff Andrulonis, President and CEO of Colonial Radio Group, narrowly escaped serious injury Thursday morning when a gobbler turkey went completely through the driver side window of his Kia Sedona minivan.
The incident occurred on Barnum Road in McKean County, just south of the New York state line, while Jeff was en route to his office in Olean. The impact with the turkey broke Jeff's nose and resulted in abrasions on his face, ear and hand.
"The turkey went through the windshield feet first, hitting me in the nose before landing in my lap," Jeff said. "After stopping the vehicle, I wrung the turkey's neck to put him out of his misery, and threw the carcass over onto the passenger side." This caused grubs and mites to become dislodged from the bird, landing in Jeff's clothing and scattering them around the car, along with feathers and blood.
Normally Jeff travels to the office with his wife, Christy. "This day I was by myself. Christy was running late because our daughter, Kristin, was home for spring break."
As Jeff stopped the vehicle and looked through the side window, he endeavored to put a positive spin on the carnage. He actually came up with this: "If Christy was in the van, she would've 'thrown a fit' about a turkey landing in my lap." Thankfully, problem averted.
There was no cellphone service in the area, but fortunately a friendly man from Eldred stopped his pickup and drove Jeff into Olean. When he arrived at the office, he phoned Christy, who insisted that he get to the hospital.
"I waited until she arrived and we then went to Olean General Hospital," Jeff said. "X-rays determined nothing worse than a broken nose. That made the Hospital staff comfortable enough to direct some good-natured ribbing my way. Oddly enough, jokes like, 'What do you get when you cross Jeff with a turkey? Easter dinner!' and 'Why were you playing chicken with a turkey?' actually made me feel more comfortable."
In hindsight, Jeff realized the incident could have been much worse than it was. "The turkey is now in my freezer and, even though he 'punched' me in the nose, I'll get the last laugh when he becomes my Easter dinner."
Postscript: The turkey never made it to the dinner table. Concerned that it was too impregnated with windshield glass, the Andrulonis's decided not to cook the bird.