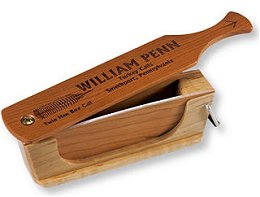 L.L. Bean, the world famous outdoor apparel and gear maker with over $1.5 billion in annual sales, now features a product made in Smethport – the William Penn Twin Hen Cherry Box Call. The device, designed by Smethport resident Jack Rosenswie, produces both young and mature hen calls, and promises to "bring toms running".
The custom-tuned box call features a cherry lid and curly maple body. A talk bar keeps the call quiet while in a vest or pocket. It also has a brass screw and travel ring.
Jack manufactures and packages the call locally and manages to keep pace with repeat orders from L.L. Bean. The company's catalogs go out to more than 200 million customers per year, ensuring maximum exposure for Jack's product, which has "Smethport, Pennsylvania" emblazoned across the top.
The turkey call is priced at $69.95. You can place your order through the website of L.L. Bean.