Smethport Web — by Nathan Muller
Amid a festive setting at the Smethport fire house, the Hamlin Memorial Library held its annual dinner and auction on Saturday, raising $10,871 for its operating budget.
The silent auction drew 116 items donated by area residents and businesses. Another 39 items were given away through bucket raffles. Cash donations to the library came from a dozen individuals, businesses and organizations. The highlight of the evening was the live auction conducted by Ross Porter.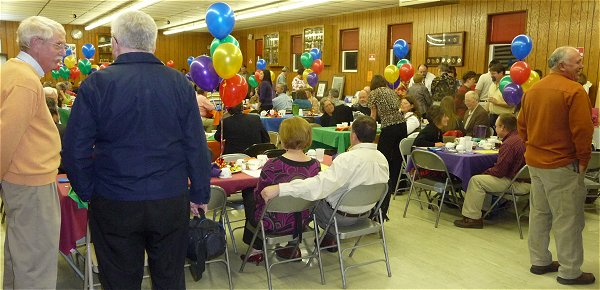 Of nine special items put up for bid, a vintage majolica jardinière and pedestal stand donated by Harriett Rockefeller went for $1,200. A blanket chest by Karl Fitzsimmons went for $800. Karl crafted the chest from cherry wood donated for the project by Seneca Resources.
A framed oil painting of Marvin Creek by local artist Julie Mader went for over $400 in the live auction. The winning bidder, Anne Potter, graciously donated the painting back to Julie for permanent display at the library where she works.
The venue provided an ideal opportunity to chat with friends, renew acquaintances, and reminisce about old times. A number of people made all this possible, including Rose Campbell and Phyllis Russell who provided the magnificent dinner. The fire hall was decorated by Julie, Kelsey and Emma Mader, Ashly Wian, and Joncine Willis with balloons from Kay Ann Wolfe. Jerod Miller did the artwork for the event.
It all added up to another memorable evening in Smethport!