Smethport Web — by Ron Orris
Leadership McKean concluded its 2011 session with a bus tour through McKean County on Friday, which included stops in Smethport, Bradford, Kane, and Eldred where attendees toured key tourism, arts and recreation assets to learn how they impact the county economy.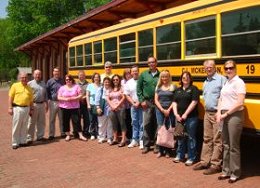 In its 5th year, the non-profit program is aimed at educating and guiding emerging leaders from throughout the county. Patterned after other successful programs across the nation, Leadership McKean is a cooperative effort of the Bradford Area Chamber of Commerce, Kane Chamber of Commerce and the University of Pittsburgh Bradford.
Consisting of 8 modules held once a month, Leadership McKean offers participants a way to become better informed of issues and opportunities that shape communities across the region. Guest speakers provide insights on a variety of important topics, including those not usually covered in the media.
The purpose of Friday's module was to:
Define the role of tourism, arts and recreation and how it impacts the county economy.
Through first-hand experience become a knowledgeable and conversant ambassador for key county resources.
Learn how to use this experience to favorably influence the perception of visitors and others who hear about and visit the region.
Develop a personal action plan for stimulating county tourism, such as participating in blogs, Facebook, twitter, volunteering, and serving on boards.
"Touring the area on a school bus is a fun way to conclude the program," said Nathan Muller, who acted as one of the tour guides and who represents Smethport on the Leadership McKean Steering Committee. "It provides an opportunity for discussion as we travel to each location. A quiz on tour content kept the interest level high, with prizes from Zippo, Case and Northwest Savings Bank for high scorers."
Bus driver Charlie Daniels from McKiernan Bus Company in Smethport made sure the day-long tour stayed on schedule.
The day began at the Zippo Museum where company historian Linda Meabon greeted guests and provided an informative tour of the facility, highlighting the impact Zippo has had on Bradford since its establishment in 1932 by George Blaisdale.
At the University of Pittsburgh at Bradford, Linda Devlin of the Allegheny National Forest Visitors Bureau summarized trends in tourism and what is being done to promote its growth in terms of dollars spent, length of stay and other key parameters. She also introduced a new program whereby attendees would adopt an attraction for a year and help promote it.
Randy Mayes, Director of Arts Programming at the university's Bromeley Family Theater took attendees back stage to demonstrate what goes into the various productions there. Only through the back stage tour can one appreciate the exceptional design of this facility. It is capable of attracting the 60-member Russian National Ballet Theatre, which performed there in March. They were so pleased with the facility that they want to come back.
At the World War II Museum in Eldred – the former site of a munitions factory staffed by mostly by women who manufactured artillery shells for the U.S. and England – Leadership McKean attendees were introduced to the unique resources of this expanding facility, which includes a library of over 10,000 books and the recorded interviews of hundreds of war veterans who provide a personal perspective on historic events. This makes the library a valuable resource for high school and college students.
In Smethport, attendees had lunch at Connie's Route 6 Diner while they took in presentations from Ta Brant, Small Business Ombudsman for the PA Wilds Resource Center, and Terri Dennison, Executive Director of the PA Route 6 Tourist Association. Jim Herzog, Smethport resident and inventor of magnetic toys, was on hand to sign and date Wooly Willy toys for each guest.
To get a flavor of Smethport's history and its importance to the local economy, the group walked a few blocks to tour the Bouton House built by Judge Joseph Bouton in 1905 at a cost of $6,000 – considered extravagant at the time. Owner Linda Muller provided details on the Victorian home's history, architecture and period décor.
At the restored Kane Depot, John Marconi from Kane Lumber gave the tour. He noted that the Pennsylvania & Erie Railroad was willing to sell the crumbling building only if it would be restored. The sale went through for $35,000 in 1995. Since then, over $150,000 has been invested in the project, coming mostly from fundraising events. Thousands of hours of volunteer labor have also gone into the project, which is ongoing. It serves as a venue for meetings, charitable events, and artisan displays.
The last stop of the day was at the Flickerwood Wine Cellars operated by the Zampogna family in Kane. Ron Zampogna provided an informative tour of the facility and a talk on how their 30 varieties of wines are made, stored, bottled and distributed. His wife Sue presided over a wine tasting. This was followed by a talk by Deputy District Ranger Jason Nedlo who discussed state and federal policy on the commercial use of Allegheny National Forest resources, and its impact on the region's economy and environment.
Christy Andrulonis, vice president of Colonial Radio Group and a participant in the Leadership McKean program, said: "I can't think of a better way to learn about the arts, travel and recreational resources in our county than by visiting these locations and hearing first-hand from the people who manage them. It was an incredible experience and well worth the time."
According to Leadership McKean Executive Director Mike Glesk, "Many more of our citizens could benefit from experiencing the wonders of our county through such a tour."
More information about Leadership McKean, including an enrollment application, is available at: http://www.leadershipmckean.com
————————
Ron Orris is Executive Director of the Bradford Area Chamber of Commerce.