Smethport Web — by Les Jordan, Jr.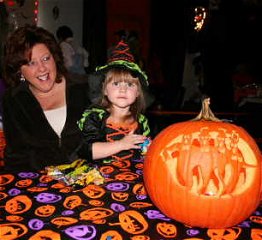 Spooks, witches, goblins and games where all part of the fun on Halloween at the first Haunted Carnival hosted by the auxiliary of the Smethport Bucktail Post #138.
Children in a variety of Halloween costumes were treated to spooky displays, games and prizes at the carnival.
Much of the displays were created by Dennis and Honor Rounsville. The displays included scary creatures, a pretend dead man or two, carefully carved lighted pumpkins and other Halloween props.
Members of the auxiliary helped children play games and dispensed Halloween treats.
It was great fun by all that attended.