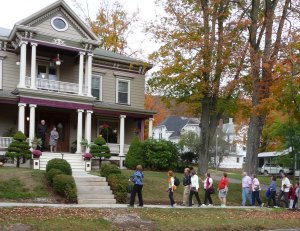 Smethport Web – by Nathan Muller
George Weigel writes for the Patriot-News in Harrisburg and is owner of a garden-consulting business for do-it-yourselfers. He also participates in bus tours and acts as a tour host. His wife Sue travels with him and serves as an escort.
In their latest tour gig, George and Sue accompanied 54 members of the Harrisburg Garden Club to Smethport, where they visited St. Luke's Episcopal Church and two historical homes in the Mansion District: the Charles Sartwell Mansion and the Judge Joseph Bouton House before heading out to Kinzua Bridge State Park in Mt. Jewett.
The tour started Friday with a soup-and-sandwich lunch at the Court of Angels restaurant, followed by a walk across the street to St. Luke's, where visitors were greeted by Pastor Joann and Bishop's Warden Dona Cooper. Both conducted various aspects of the tour and Diana Anderson demonstrated the organ, even playing a selection requested by a visitor.
After a 40-minute stay at the church, the group headed to the Charles Sartwell Mansion, owned by Phil and Karen Smith, where they were treated to two floors of elaborately furnished rooms and a backyard garden that featured an aviary of exotic chickens.
At the Judge Joseph Bouton House, owned by Nathan and Linda Muller, visitors were briefed on the life and times of Judge Bouton and the history of the home, before touring three floors of opulently decorated rooms furnished in Victorian style.
The idea of visiting Smethport originated with Jo Peachey, a tour coordinator with Lowee's Group Tours. She had traveled to Smethport last year with her husband and was intrigued by the homes on West Main Street and the spectacular fall foliage in the area.
Innovative Coach brought the Club members to Smethport. During the 4-hour trip they enjoyed all the amenities of home. The tour bus provided plush seating, individual climate control, WiFi, power outlets, XM Radio, streaming movies, and TV.
After spending four hours in Smethport, the coach went on to Mt. Jewett where Club members visited Kinzua Bridge State Park, first stopping at the Visitors Center and then venturing out to the bridge overlook for a panoramic view of stunning autumn colors.
Following an exhausting day of sightseeing in the area, it was back to Harrisburg – another four hours of travel that was made a lot more enjoyable and relaxing in the amenity-rich tour bus operated by Innovate Coach.
Jo Peachey summed up the tour experience by relating one person's observation: "She loved everything… She was so impressed with Smethport as a whole. She felt it was really a beautiful place and that the residents were very proud of their town."