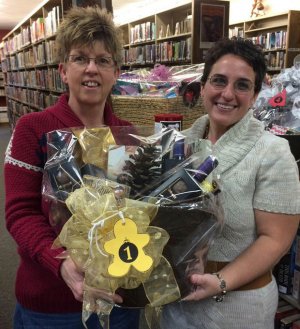 Smethport Web — by Hamlin Library
The second annual "Holiday Spirits — A Night of Tastings" was held Saturday evening, December 10 at the Hamlin Memorial Library.
In addition to hot and cold appetizers catered by Ed Vicic, owner of the Port Freeze, the fundraising event featured a selection of beers, wines and ciders locally crafted by Greg Rounsville and Jim Stein.
Photo: Lori Rounsville, librarian (left), and Donna Morris, assistant (right), show off one of the baskets up for raffle during the Hamlin Memorial Library's Holiday Tastings Event.
Scott Dickerson of JB Distributors in Smethport showcased a selection of his holiday picks, which included ales and lagers, along with flavored malts. Denny Baker of Card Creek Wines in Roulette served a selection of wines, including Merlot, Concord, an Allegheny blend, and several fruit varieties.
During the event, attendees were able to purchase tickets for the library's holiday basket giveaway. Winners will be picked at 11 am on December 17.
All proceeds from the event will go into the library's operating fund. The board of directors and staff of Hamlin Memorial Library raise nearly $35,000 annually from the local community through giveaways, events and their annual dinner auction.
The library's annual operating budget is more than $70,000. Government funding and grants make up approximately half of the budget, leaving a deficit of funds to maintain services and hours of operation. Traditionally, these funds are provided by the generous giving of local businesses and individual donors.
Those interested in donating can purchase a holiday donor card, sign up for a monthly debit, or make a one-time donation to the library.