Smethport Web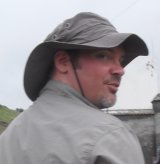 On a break from teaching English at a university in Chengdu, China, Smethport resident Matt Muller spent the week of July 4th in the scenic highlands of neighboring Tibet, which has only been open to tourism for about 30 years.
With China now encouraging more tourism to this area, there are now local outfitters ready to fulfill contracts from travel operators all over the world, especially those offering adventure and experiential packages.
To help work out the kinks for a new tour destination soon to be offered by PureQuest Adventures, Matt and some fellow teachers were recruited by a mutual friend to take the first tour in return for publicity photos and stories about their experiences. PureQuest contracted with The Happy Trails Horse Trek Company to outfit the group with horses, supplies and two guides who pulled double duty as cooks.
The tour route took the group through the rugged countryside of Songpan on trails that tea and silk caravans traveled during the time of Marco Polo. Stops along the way included towns and villages that were once part of a greater Chinese empire that issued paper money long before Rome minted its first coins. Outside the walls, lookout towers stand mute, but seemingly ready at any moment to signal the approach of invading hordes.
The group also stopped at a Tibetan temple, the perimeter of which is ringed with push wheels that mechanically convey prayers to Buddha. Everywhere prayer flags flutter in the wind, sending earthly hopes and wishes directly to heaven.
There is a significant Muslim population in Tibet. Unlike many areas of the world, foreigners are encouraged to enter the mosques. Regardless of religion or ethnic background, the people are friendly and very curious about westerners, especially Americans, who are not seen in the region very often.
At the end of each day, the group unpacked the horses and set up camp. Over a simple fire, the cooks prepared staple meals like spicy cucumber and flat bread. A skunk hide bellows was used to keep the fire sufficiently aroused.
In villages there are fresh fruits and vegetables to be had. Just about every local market offers Yak, including heads and lower limbs for stew. For those who dared, Yak jerky made for a tasty snack back on the trail.
There are no hotels along most of the tour route, so personal hygiene consists of toweling off after a swim in a river or stream, or following some extended relaxation at a hot spring.
Medical assistance in the remote areas is virtually non-existent, so when Matt was ambushed by a charging dog and bitten, there was nothing else to do but keep the wound clean, continue the journey and hope for the best.
The local people are extremely poor by western standards, but there is electricity even in remote areas and there is cell phone service in every town. Few people speak English, including the Happy Trail guides who seemed to know only enough of the language to get through the tour.
Matt's take on the trek: The spectacular scenery of the Tibet highlands, as seen from horseback, offers a spirit-renewing experience for those looking to get off the beaten path and possibly discover something new about themselves.