Smethport Web — by Nathan Muller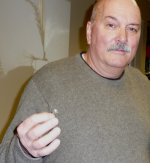 The Hamlin Memorial Library hosted a multi-session beginner fly-tying class that concluded on Monday, March 29th. The event was made possible with the aid of a grant from the Pennsylvania Council on the Arts and drew 18 attendees.
Through a progression of skills, participants learned how to create wet-flies, dry-flies, nymphs and streamers under the expert guidance of Ward Baun, Dan Cousper, Buck Daisley and Mark Cauldwell who provided individual assistance as well as demonstrations that were projected onto a wall for greater visibility.
Attendees of all ages paid $25 for a standard tool kit and materials. Among their last projects was to build a March Brown, a wet fly consisting of a hook, black or tan thread, pheasant tail fibers, 38-gauge gold wire, hare's ear dubbing, brown hen hackle, and duck quill – all meticulously brought together with the aid of a stand consisting of a holding arm and magnifying glass.
According to Ward Baun, all the fly-tying projects featured standard, proven construction techniques. A retired teacher and former football coach, Ward is also a rod builder and, of course, an avid fly fisherman. He is affiliated with the Kinzua Fly Fishing School where he gives presentations on entomology, the study of insects.
The class-bound anglers will now be able to test their creations in the area's many streams and ponds during trout season, which starts April 17th.