Smethport Web — by Nathan Muller
In the ivory towers of the nation's media elites, there is growing anxiety about who is responsible for a massive Wooly Willy hack attack that seems to be waking millions of TV viewers from their evening stupor. The FBI has weighed in with its own answer, strongly implying that it was the work of China, where Wooly Willy magnetic toys are now manufactured.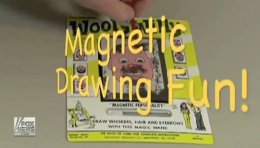 The FBI has contacted all major media outlets, providing technical details of the Wooly Willy malware and how it works. Director of National Intelligence James Clapper has publicly called China the "leading suspect" in the Wooly Willy hack, but he hasn't offered any evidence to substantiate those claims, citing "national security".
The FBI is warning U.S. broadcast media to be on the lookout for the malicious computer program, which first surfaced in a recent Fox News story about the Apple Watch. The clip in which Apple CEO Tim Cook appears is suddenly interrupted by Wooly Willy.
View the Fox News video! Wait 50 seconds to see how Wooly Willy messes with Tim Cook's presentation.
The FBI's FLASH alert says the bureau has identified "cyber actors who are using Wooly Willy malware to mock mainstream news, inserting the image of Wooly Willy to steal the attention span of viewers away from issues of national insignificance." According to the FLASH alert, "The magnetic personality of Wooly Willy has proven to be an irresistible attraction, requiring government response."
Experts believe the ultimate purpose of the Wooly Willy malware is to recruit other toys to its cause. "We can only imagine the havoc GI Joe, Barbie, and the Cabbage Patch Kids can wreak upon our national communications infrastructure if they become weaponized in this way," said U.S. Chief Information Officer Tony Scott, who has been working to restore public confidence in federal cybersecurity by urging government employees to display their computer passwords on post-it notes to facilitate information exchange.
Congressional reaction to the Wooly Willy hack is one of outrage. Sen. Mark Warner, D-Va. said: "If we want to be better prepared to meet this threat in the future, we have to make sure that the Department of Homeland Security has the tools it needs to adequately secure our federal and civilian networks against the Wooly Willy hack. We will not tolerate these intrusions."
Meanwhile, security experts are treating Wooly Willy as a persistent threat and advise all computer users to report incidents to local authorities: "If you see something, say something!"