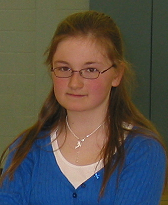 Elementary student Emily Dibble's (right) winning essay last year earned her the privilege of becoming the model for Jamestown, New York sculptor Dave Poulin. Emily's essay was selected by the 5th grade teachers to become the concept for a statue of a student that will be placed in front of the school. The bronze sculpture was unveiled at the Smethport Elementary School on Thursday.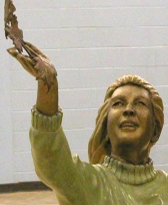 The unveiling was preceded by a talented chorus rendition of peppy show tunes — "That's Entertainment" and "Doctor Jazz" — under the direction of Mrs. Aloi. Sixth grade student Bryce Henry played Beethoven's "Fur Elise" on Spanish guitar. This was followed by the band's performance of the rock classic, "Louie Louie," which raised the decibel level of students and teachers.
Dave Poulin spent three weeks at the school as an artist in residence, helping to develop the theme for the statue. He inspired the entire class of several hundred students to become actively involved in the project, sharing his wisdom about life along the way.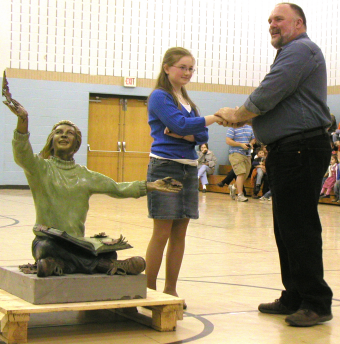 Every student added clay to the model and helped shape the statue into its basic form around a metal frame. Poulin explained that giving students an opportunity to apply clay gave them an ownership stake in the project and a sense of responsibility in determining its outcome. He compared the process to making the right choices in life that shape the future for all of us. This outlook is commemorated in the statue's theme, "Smethport – The Future is Now."
When the clay model of Emily finished it was covered in plaster to create a mold into which the liquid metal was poured by Paulin at his foundry in Jamestown. After a finishing process, Poulin treated the statue with chemicals to add various colors to the bronze. A sealant was applied to keep the colors from fading. The sculpture took a year to complete.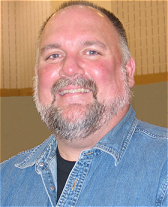 A former school teacher in Olean and college professor at St. Bonaventure University, Poulin (right) has been involved in over 60 artist residencies. When he is not creating commissioned pieces, he travels the world doing lectures, performing bronze casting demonstrations, and conducting workshops. His creations have been exhibited in many countries, as well as around the New York – Pennsylvania region. His website contains many photos of his work and a slideshow about the bronze casting process.
The statue will be put into place in front of the school during the summer. According to Poulin, the 500-pound statue will last hundreds of years, and offer today's students a source of pride they can point to long into the future as they revisit the school with family and friends.
The entire process of building the clay model was chronicled by 6th grade teacher Jovanna Porter. You can view the 10-minute video to see how the students worked on the project. Choose Quicktime or Windows format.

---
Here is Emily Dibble's winning essay from November 2007 when she was in 5th grade…
My Story
I was on a trip with my friends to the beautiful countryside on this warm fall day. We were planning what we were going to do when we got there. Before we knew it, we were there. When I got out of the car, I was astonished and awe-struck at the wonderful colors. The golden meadows, the baby blue sky with white puffy marshmallow clouds, and best of all, the trees. The oranges, reds, and gold-yellow colors were so magical that they looked like part of an artist's mind.
Suddenly my friend said, "Hey, snap out of it!" That's because the others were already halfway up a colorful hill. I got my backpack and started running.
"Wait-up!" I cried several times before they heard me. When I finally got to them, I was panting like a dog after a squirrel. It was kind of windy, but I was wearing a warm wool sweater and old blue jeans.
We kept walking and came to a tiny clearing, with narrow paths, maybe made by deer. There were four paths, not including the one where we had come from. I was tired, so I asked the girls if they wanted to go exploring. They said yes, but then I told them that I was staying here. Then they were gone.
I pulled out a book from my backpack. It was called Sea Creatures. It got windy again, but I didn't care. I started to read. Suddenly the wind went crazy and leaves began to fall. One fell on one of my brown leather shoes, one on my leg, and one in my book. I looked up. What I saw next was wonderful.
There were sun rays bouncing off trees and hitting leaves, making them more brilliantly colored than before. It had to be the most beautiful sight I had ever seen. Then the wind stopped, the sun dimmed, and the leaves stopped falling. I started to read again, but then I heard something. It was in the bushes, making a rustling sound. Then, out came a deer family. I couldn't believe they did not see me. Just as soon as they came, the girls came back too.
Megan shouted, "Look, deer!" The deer sprinted back into the bushes. I said to the girls, "What did you see?" Meghan went first. She had seen two rabbits, four chipmunks, and heard something that might have been some deer or a bear. Brianna saw some pretty wildflowers, but she didn't pick any. Emily saw some birds and Stephanie found some oddly shaped twigs.
I was still sitting cross-legged on the ground. I got up and asked, "What time is it?" Stephanie replied, since she had the watch, "It has been two hours."
"Two hours!" I cried. "Holy moly!" I also said we should get back now and that it was probably time for lunch. With that the girls started to run down the hill, laughing. I walked back down the hill feeling pretty good.