Smethport Web — by Les Jordan Jr.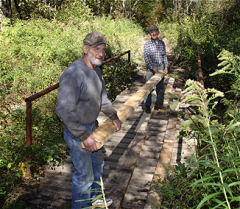 Members of the Potato Creek Trail Association, Ray Dart (front in photo) and Corky Hull (rear in photo), place wooden planks atop the existing deck of a bridge over a small stream crossing the old Pennsylvania Railroad grade near East Smethport. The planks were added to the bridge to provide more strength so horses could safely carry their riders across the stream.
The railroad grade once carried passengers and freight into East Smethport and then southward to Clermont until it was abandoned in the 1970s. The grade is now part of the Potato Creek Trail Association's developing network of non-motorized recreational trails radiating out of Smethport and is part of an expanding equestrian trail.
The equestrian section of the trail system begins at the McKean County Fairgrounds and extends north across the old grade for a about two miles and then across Potato Creek where it merges with the Wolfinger Trail System just north of town on PA Route 46.
Supplies for the bridge deck construction were purchased with a $200.00 grant received from the Smethport Borough. Residents of the borough are encouraged to use the trail system and become members of the Trail Association. Information for becoming a member is posted on this web site.
Riders from out of town can board their horses at the fair grounds before riding the trail. Boarding arrangements can be made by contacting Nancy Dart at 814-887-5490 or by e-mail at rainydayfarms@comcast.net