Smethport Web — by Nathan Muller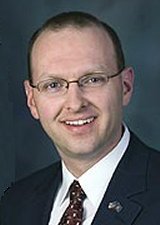 The bridge on U.S. Route 6 over Potato Creek in the Borough of Smethport will now become the POW/MIA Memorial Bridge to honor the more than 1,100 veterans from Pennsylvania who are listed as prisoners of war or missing in action. Nationwide, there are more than 93,000.
Under a new law authored by Rep. Martin Causer (R-Turtlepoint) much-deserved recognition is provided to area veterans by naming the bridge in their honor.
"Naming a bridge or highway after a veteran or group of veterans is a great way to remember their contributions as well as the contributions of every soldier, sailor, airman and marine who have sacrificed much for our community and our country," Causer said.
"Every time a driver uses that bridge or drives that roadway, they are reminded of the brave men and women who work to protect our safety and our freedoms," he said.
In addition to Potato Creek, the new law makes other designations in the area.
The bridge on U.S. Route 6 over the Allegheny River in Liberty Township, McKean County becomes the Lt. Colonel Richard J. Berrettini Memorial Bridge. Berrettini, a Port Allegany High School nurse, died in January 2008 from injuries he suffered in Afghanistan while serving with the Pennsylvania Army National Guard.
The bridge on U.S. Route 6/Main Street over the Allegheny River in Coudersport Borough becomes the Potter County World War II Veterans Memorial Bridge.
A 1.4-mile section or State Route 120 in the Borough of Emporium becomes the General Joseph T. McNarney Memorial Boulevard. McNarney was born in Emporium and later became Commanding General of the U.S. Army in Europe and Military Governor of the U.S. Occupation Zone in Germany during World War II.
The legislation directs the Pennsylvania Department of Transportation to post and maintain signs displaying the names of the bridges and roadway. The law is effective in 60 days.