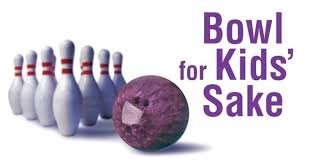 Smethport Web — by Annie Wolfe and Cinde Schuckers
Since 1992 The Guidance Center's Big Brothers Big Sisters Program has supported one to one mentoring relationships in McKean County between responsible adult volunteers and youth aged five and older. The organization's staff, task force members, and program participants would like to recognize the businesses and individuals who participated and donated in Bowl For Kids' Sake, our largest annual fundraiser, which took place on April 9, 2016 at Byllye Lanes in Bradford.
Funds raised at Bowl For Kids Sake will support ongoing professional match support for our current matches and assist with recruitment of volunteers and youth for new matches.
Mentoring impacts youth in your community. Long term studies show that children who have a Big Brother or Sister have significant improvements in school attendance, academic performance, connectivity to their school and community, goal setting, as well as better relationships with family members and peers. In McKean County, Big Brothers Big Sisters currently serves 17 matches with 53 children on the waiting list in need of a mentor. Estimated costs for supporting a match for a year is between $1800 and $2000. Matches meet 2 – 4 times per month. Last year McKean County volunteers donated over 1000 hours in mentoring their Littles.
A total of 212 bowlers attended this year's Bowl for Kids Sake event. With individual and team bowler donations and business sponsorships, Bowl For Kids' Sake raised a total gross amount of $18,396 for McKean County mentoring services. $4,020 in additional in-kind donations including prizes, food, banners and other supplies supported the event's success. Individual bowlers raised $12,021 while business sponsors donated an additional $6,375.
Each individual bowler was asked to raise a minimum of $50. Staff and children involved in the Independent Living program of the McKean County Department of Human Services raised $1,848.80 of the total amount brought in by bowlers. We would like to recognize this program for its sixth year of participation in Bowl For Kids Sake.
Bowlers raising the most money received prize packages containing Kwik Fill gas cards, Wal-Mart gift cards, golfing packages at the Kane Country Club, and amusement park and sporting event tickets. Lynette Beatty took 1st place raising $550. 2nd place went to Terri Walker who raised $300, and Isabella and Nicolas Learn tied for 3rd raising $252.50 each. Every participant enjoyed two bowling games, shoe rental, food, and
tickets for the gift basket giveaways.
Winners of special prize giveaways included: Tim and Julie Williamson winning two round trip tickets from Bradford to Pittsburgh donated by Sun Air Express, Amy Geer winning an overnight stay in a whirlpool suite donated by Bradford's Best Western Plus, and Julie Barrett winning a spa robe donated by Allegheny Vein and Vascular.
This year's event sponsors included four-time Champion Sponsor Kane Eagles Club. Perfect game sponsors included the University of Pittsburgh at Bradford, International Waxes, and WESB and The Kane Republican, with each media source donating pre and post event advertising.
Domino's Pizza was a returning Strike sponsor, donating food for the participants. Other Strike sponsors included Straub Brewery, Asel Enterprises, the Smethport Lion's Club, and United Refining Co. of PA/Kwik Fill. Spare sponsors included Byllye Lanes, Carl E. Swanson and Sons Inc., Close's Lumber Company, Cutco Ka-Bar Visitors Center, Bradford McDonalds, FOE Eagles Auxiliary #2432, Kane Lion's Club, Kane Vets Home Association, Kessel Construction Inc., Kids and Cancer, Kiwanis Club of Bradford, Karpinski's Office Systems, Pine Haven Veterinary Clinic, Rotary Club of Smethport, Sena-Kean Manor, Sun Air Express, W.E. Swanson Agency Inc., Zippo Marketing, and Zook Motors Inc.
Thank you to all of the returning and new lane sponsors, bowlers, and donors as well as the businesses and individuals that donated prizes. Your support for Bowl For Kids' Sake and the Guidance Center's Big Brothers Big Sisters program is greatly appreciated.
If you or your organization is interested in learning how to participate in or donate to Big Brothers Big Sisters of McKean County, please call Big Brothers Big Sisters toll free at 1.877.776.1636 or locally at 814-887-5591. You can also get more information on our website at www.bbbs-jem.org.