Smethport Web — by Les Jordan Jr.
When Smethport resident, Jim Herzog, invented the magnetic toy, Wooly Willy®, in 1955, he never dreamed it would one day become the subject of an article by a nationally circulated magazine.
But, that is exactly what happened on Monday, May 18 at the Patch Products' Smethport facility (formerly Smethport Specialty Company) where Wooly Willy has been made since the popular toy company relocated its manufacturing facility there in 1965 from its original location on Fulton Street in downtown Smethport, PA.
American Profile Associate Editor Marti Attoun and freelance photographer for an Athens, Georgia newspaper, John Curry, interviewed Mr. Herzog at the factory following a guided tour by General Manager, Greg Rounsville. Both Greg and Jim explained the manufacture of Wooly Willy to the writer and photographer from the national publication whose magazine is inserted in newspapers weekly across America. (The article is tentatively scheduled for a September publication date.)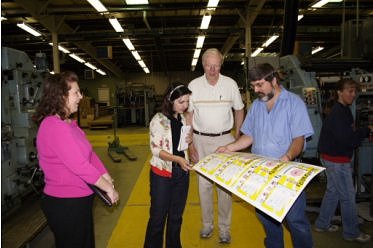 Smethport Specialty Co. General Manager, Greg Rounsville, shows visitors a newly printed cardboard front for the Wooly Willy magnetic game printed at the Smethport Specialty factory. From left to right: Lisa Wuennamann, Patch Products Director of Marketing; Marti Attoun, Associate Editor American Profile; Jim Herzog, inventor; and Greg Rounsville, General Manager at Patch's Smethport facility.
The magazine which has a circulation of 10 million copies, "is a weekly, four-color magazine that celebrates hometown American life. It's a heartfelt reminder of what's good about who we are and the places many of us still call home," as the publication describes its purpose.
Attoun and Curry where hosted by Lisa Wuennemann, Director of Marketing for Patch Products of Beloit, Wisconsin, which now owns the Smethport brand and the rights to Wooly Willy.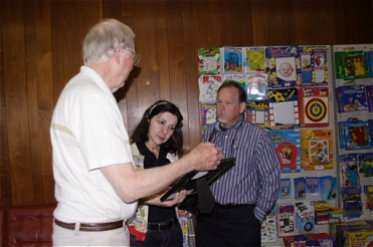 Jim Herzog shows his work to Associate Editor Marti Attoun and photographer John Curry.

After running across advertisements for Wooly Willy on a Smethport web site, Attoun was eager to do an article on the magnetic game which ranks in the top one hundred of children's games ever produced.
During the interview Jim discussed several of the problems the Smethport Specialty Company had producing the game at first and the high costs of defending the legal patent rights to the product which was often illegally copied by other manufacturers in America and abroad.
Mr. Herzog discovered the game after placing magnetic powder on a piece of card board and then placing a magnet underneath the cardboard which allowed the powder to be moved around. Shortly after that, Wooly Willy was born. It was 1955.
Herzog noted that his family has been involved with the toy company since 1922 when it was then known as the Marvel Toy Company and was partnered by three local businessmen, Kerr, Frey and Jim's dad, Ralph Herzog.
Jim was with the family business for 41 years until the family sold the operation in 1993. Jim's son, Kent, has been with the company for 31 years and continues to work maintaining machinery there to this day.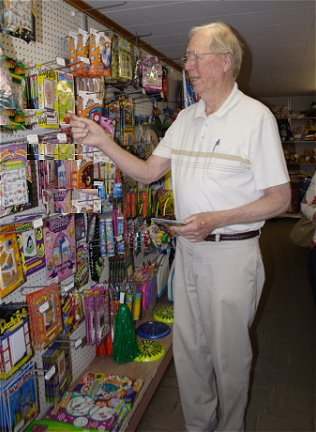 Wooly Willy is still sold in Smethport's Lindgren's Variety Store, just as it was sold in 1955 when the game was invented.
The game was sold in dime stores across the United States such as G.C. Murphy's. According to Herzog, "No matter how lousy business was at the time, Wooly Willy always sold." While most dime stores have disappeared from "downtown America," Lindgren's Variety Store on Smethport's Main Street still sells the game just as it did when first sold in 1955.
When production started, "our business plan was to survive to tomorrow," stated the inventor. Early production of Wooly Willy was, "a small production," noted Mr. Herzog. That has all changed in the 50 plus years since the first game was produced. Since then 75 million games have been born and provided countless pleasure for children across the world.
Since then the game has become an icon of success in the toy industry. Recently, Smethport began building the foundation of the National Wooly Willy Wonderdaze festival, further emphasizing the timeless appeal of this magnetic game.
Before Jim began working at his father's toy factory Jim developed a background as a mechanical engineer, electrical engineer along with rocket science. As a result of his early background many have suggested to Jim that you "wasted your life in a toy factory." But Jim smiles and talks about the loads of fan mail that he received about all the happiness the game has brought kids through several generations instead.