Smethport Web — by Nathan Muller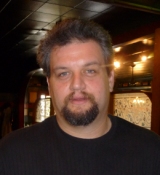 Smethport residents who appreciate fine dining or a change of pace on special occasions have been accustomed to traveling far to sate their appetites: The Bistro in Olean, New York and The Westline Inn in Northwestern Pennsylvania, as well as The PennHills Club and The Glendorn in Bradford.
Add to that impressive list – The Cottage House in Smethport.
A few months ago, Cottage House owner Mick Caulkins had the good fortune to hear from Ronald Gigliotti in Bradford, who was responding to Mick's routine help-wanted ad. Ron asked Mick if he was looking for a "cook" or a "chef". Sensing something unusual, Mick invited Ron to a meeting at the restaurant. The two clicked from the start and suddenly Smethport could boast of having a world class chef.
Restaurants are defined by their chefs. Those who are creative, consistent, innovative and well traveled have a decided advantage over their peers. Ronald Gigliotti brings all this and more to The Cottage House.
Ron grew up in the restaurant business. His parents owned and operated their own restaurants and his grandparents had pizza parlors in Brooklyn. At age 5, Ron was already pre-destined to continue the family tradition.
Building on his early experience, Ron attended the Culinary Institute of America in Hyde Park, New York and The Pastry Academy in Santa Cruz, California. He apprenticed in Italy, specializing in pasta dishes at restaurants in Florence and Rome. He also cooked and tasted his way through Greece and worked at a restaurant on Santorini Island.
Ron says his favorite cuisine is Asian. "It's the mother of all foods," he said.
Even Italian pastas have their roots in Asia. Among other things, Marco Polo and others brought back spices, foods and recipes to Italy and other parts of Western Europe. The Renaissance of the 14th – 17th centuries was not just about the resurgence of art and science – it was about the emergence of new cuisine for the masses.
When it comes to pastas, Chef Ron has taken The Cottage House to new vistas. With fresh ingredients, all the dishes are hand crafted by Ron, including his signature Rustic Tuscan Meatball Lasagna. When offered on the "specials" menu, this is one item that doesn't last long. Any lingering portions in the kitchen may be snapped up as a takeout order. On hearing that 8 servings of the lasagna were still available one customer took home all 8 servings for guests at a birthday party.
"The pastas have become a favorite," Ron said. Other entrées in Ron's culinary arsenal include Pork Roulade, Lamb Medallions, and Veal Osso Bucco. For desert, the ladies can swoon over Ron's Italian Cream Cake.
The Cottage House menu is continually being refined by Chef Ron for quality and presentation. This started with the Shrimp Scampi and Chicken Parmesan, formally effused with bread crumbs, which dries out even the most meticulously prepared dish. This corrected, the servings are now more generous as well.
Chef Ron likes to keep customers with discriminating palettes wanting for more, so he brings out dishes like Indonesian Chicken Satay or Curried Shrimp over a ginger-lime couscous. These now rank as the top two Asian dishes at The Cottage House, according to Ron.
As Ron tells it, he likes to come up with dishes that you can't find within a 100-mile radius of Smethport. Sometimes this raises the eyebrow of owner Mick Caulkins who occasionally has to track down some arcane ingredients. Being a good sport, Mick manages to bag the goods every time and even enjoys regaling staff with a recap of his ordeal.
Despite being adventurous with the cuisine, families are not ignored. "Any family can enjoy the regular menu, but if mom wants to try something different she can," Ron said. "The kids will continue to have fun with the all-you-can-eat crab legs."
Chef Ron always has an eye on the future. He has already livened up the desert menu with Bananas Foster and Sicilian Cannolis, and wants to offer French pastries, starting with Pâte à Chou. He also wants to present a Raspberry Truffle and French Napoleons of different flavors.
Ron spends long hours in the kitchen. From prep work to fresh ingredients to final presentation, no shortcuts are taken. "A chef is married to the job," he said.
So what does Ron do when he's not working? When not reading cook books, he spends time with his family. At home, his two-and-a-half-year-old toddler already likes to help roll the pasta.