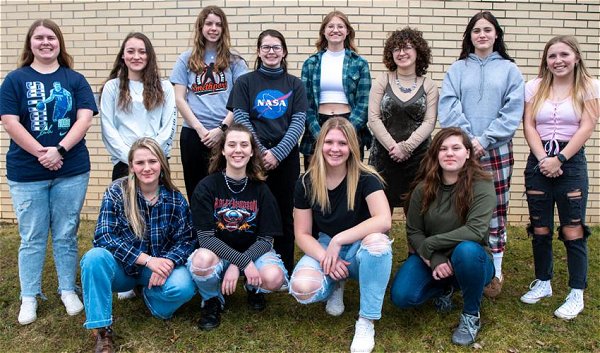 Bradford Era – by Jeff Uveino
The Lady Hubbers will feature an athletic group that brings speed to the basepaths. If its inexperienced pitching staff can catch up to its lineup, an upward climb in the conference could result.
Front row (from left): Danielle Nelson, Ashley Day, Coryn McClain, and Kristen Dunn. Back row: Hope Peterson, Eva Gifford, Elizabeth Hungiville, Serena Smyntek, Charity Lapp, Celeste Austin, Maddison Faes, and Baylee Fitzsimmons.
Ashley Day, Tylar Colley and Coryn McClain have each developed as an option for the Lady Hubbers in the circle, with Day getting the opening-day start in a loss to Johnsonburg earlier in the week.
"It all comes down to pitching," Smethport coach Jon Peterson said. "All three have been working with our pitching coach, which will help their future. Consistency is the main thing. They throw hard, but it's about consistency with throwing strikes."
Smethport brings a largely youthful group, featuring five seniors, two juniors, eight sophomores and three freshmen. Dani Nelson will bat third in the lineup and play shortstop, serving as the team's offensive and defensive cornerstone.
"We're going to put the ball in play," Peterson said. "We don't have a lot of power. My goal is to improve every year. If we have any type of pitching, we will be okay. They're a great bunch of girls and they give 110%." Read More