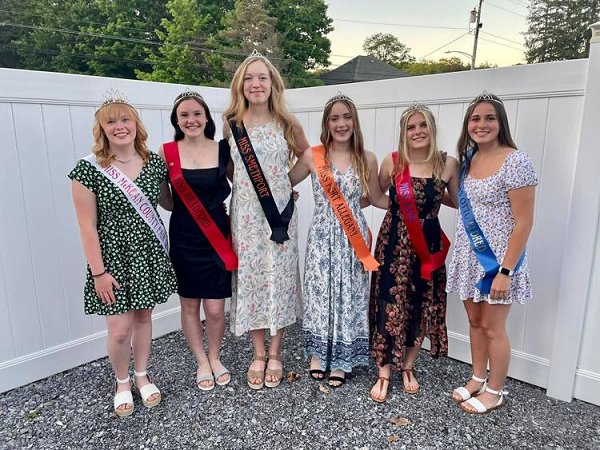 Bradford Era – by Marcie Schellhammer
The 116th McKean County Fair kicks off Sunday in East Smethport, with an opening ceremony at 6 p.m., followed by a vesper service at 6:30 p.m.
The reigning McKean County Fair Queen Jenny Crowley poses with this year's hopefuls, from left, Miss Bradford Kailee Peterson, Miss Smethport Faith Miller, Miss Port Allegany Chloe Cramer, Miss Kane Brooklyn Ribble and Miss Otto-Eldred Sarah Beaver.
Daily shows this year, starting Monday, will include the Flying Wallendas with their high-wire acts that defy gravity; blacksmith Jason Anderson who makes an art of the old-fashioned trade; Marty's Bubble Gum Machine, a musical and fun interactive show for children; The Rhinestone Roper Daniel Lee Mink with his trick roping, knife-throwing, gun spinning and horse tricks; mobile glassblower Ryan Gothrup,who brings the artistry and education of glass making beyond the studio walls to share with the public; Doug Ryan, a chainsaw carving artist who will carve in person at the fair; and Bwana Jim's Wildlife show, which is always popular with his animals and jokes.
Also throughout the week, bingo will be held in the Grange building, and the McKean County Historical Society will have a display, as will the Pennsylvania Game Commission. Read More