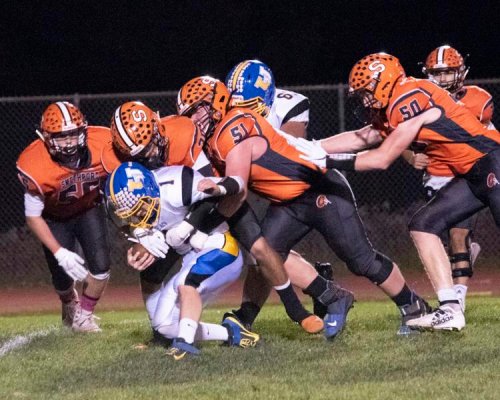 Olean Times Herald – by Joel Whetzel
For the second time in three seasons, the Smethport football team is heading to the District 9 Class A championship game.
Behind another stellar night of defense and some heroics from Noah Lent and Ryli Burritt, the Hubbers rallied in the fourth quarter to upend Union/A-C Valley, 12-10, on Friday night to advance to the D9 finale.
Smethport had trailed 10-6 heading into the final quarter before Lent hit Burritt for a 22-yard touchdown pass to put the Hubs ahead for good.
"I'm excited about how the kids persevered and pushed through adversity," Smethport coach Adam Jack said. "That was a heck of a battle, and my hat is off to Union/A-C Valley. They're a really good team. They came up here and gave us a dogfight."
As was somewhat expected entering the matchup, the game featured plenty of defense, particularly from Smethport. The Hubbers (6-0) held the Falcon-Knights (5-2) to just 50 yards of offense on 34 plays and allowed only two first downs the entire game. Read More