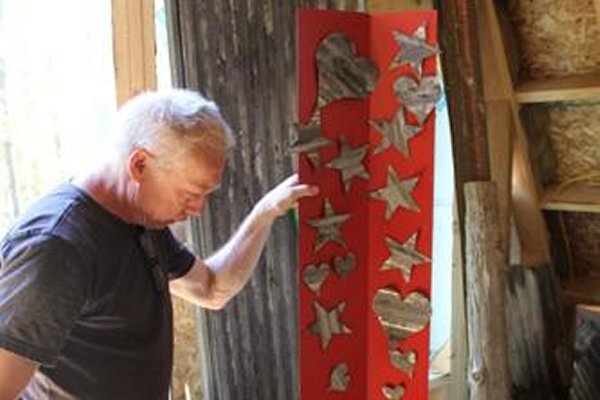 Bradford Era – by Mandy Colosimo
Way out on East Valley Road in East Smethport, past several pastures of cattle and a few goats, you will find a driveway on the right with a bright red-roofed barn. On the second floor of the barn is where you will find Kent W. Smith of Kent W. Smith Studio working on his next piece of art or artful furniture.
Smith has been dabbling in different mediums lately, from live-edge, locally sourced wood to corrugated metal, and is stepping into others like fiber arts and hopes to be making brooms in the future.
The barn, his studio, is not yet complete. It should have been completed in September of last year, he said, but it has taken on a schedule of its own.
"We had been working in the two-car garage. We did most of what is here in the garage. The poly and epoxy was done in the basement," Smith said.
That hasn't stopped him.
Smith and wood-crafter Dave Inman, started adding machinery to the studio as soon as there was a floor to put it on. The big doors to the second floor are not even installed yet, but the artisans couldn't wait. Read More