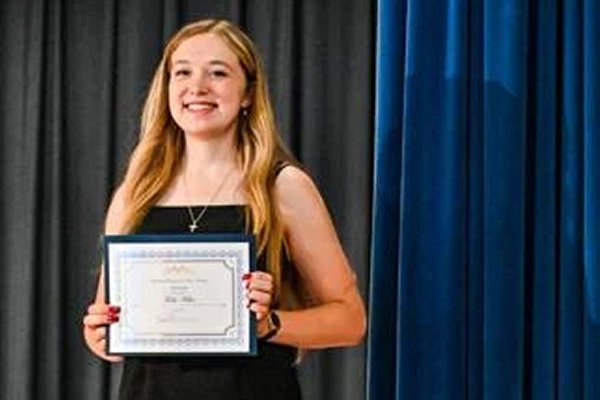 Bradford Era – by Daniella Langianese
The 2023 Smethport Area High School held an awards assembly to announce students who won scholarships on Wednesday, as well as their valedictorian Faith Miller and salutatorian Kaylee Swanson.
"These two girls were neck and neck all four years, it came down to Mr. Emerson tallying up the final marking period grades before we knew the winner — and even then it was an extremely close race, within half a grade point," said Principal Douglas Dickerson.
Assistant Principal Brian Lawson presented those awarded with the National Honor Society recognition, including: President Ava Costa, Vice-President Ella Forquer, Secretary Kaylee Swanson, Treasurer Alyn Thomas, as well as members Katelyn Dunn Faith Miller, Owen Holmberg, Joanie Waldeck, Charity Lapp and Gillian Walker.
After Friday evening's graduation ceremony, the class of 2023 includes: Preston Alferi, Breawna Benjamin, James Bickford, Jacob Bishop, Zachary Blauser, Raven Burkett, Ava Costa, Michael DuBeck, Hunter Dunmire, Katelyn Dunn, Joshua Erickson, Jaxon Faes, Baylee Fitzsimmons, Dawson Fitzsimmons, Ella Forquer, Mason Herbstritt, Emma Hill, Owen Holmberg, Leland Hughes, Joshua Hungiville, Hannah Knapp, Jacob Knapp, Kyle Ladlee, Charity Lapp, Hayden Leet, Abby Lutz, Carter Mason, Aiden McKean, Faith Miller, Eliana Murray, Taylor Neff, James Peffer, Ryan Pelchy, George Persing, Klayton Rogers, Jeremiah Rounsville, Seth Sanderson, Trevar Shelley, Kaylee Swanson, Tristen Taylor, Alyn Thomas, Brandon Tingley, Joanie Waldeck, Gillian Walker, Reilly Walker, Keegan Watson, Michael Wooster and Bryan Young. Read More