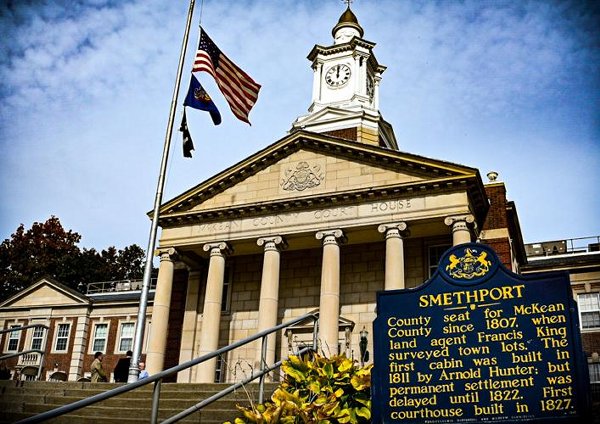 Bradford Era – by Daniella Langianese
When the Honorable Judge Glenn E. Mencer served as the district attorney of McKean County from 1956 until 1964, the chimes of the clock tower which sits atop the McKean County Courthouse would ring out each hour — "it is such a tragedy that the recent generation has never heard the beauty of the clock's hourly chime," said Commissioner Cliff Lane.
Wednesday morning a large group of people gathered on the lawn in front of the McKean County Courthouse to participate in the Building and Clock Tower Ceremony.
After an introduction by the Maintenance Director Ed Tronetti, President Judge John Pavlock took the podium to provide a history of the many phases the courthouse has undergone over the years.
Focusing primarily on the history of Judge Mencer, who also served as the President Judge of McKean County from 1964 to 1970, Pavlock stated, "When I walk the halls of the courthouse I think of the greats: like Judge Mencer, who walked up these steps (pointing to the courthouse front steps) and past the clock tower that rang out on the hour while he served here." Read More