Smethport Web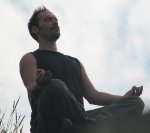 When Smethport resident Matt Muller decided to go to China to teach English as a Second Language, he consulted with Ross and Jovanna Porter who had a similar experience. In their discussions, Ross happened to comment that Matt would be treated as "rock star" there. This raised the eyebrows of Matt's parents, and Matt himself didn't know what to make of the seemingly odd comment.
Three months later, now settled in at Xiangnan University in the city Chenzhou in Hunan Province, what seemed to be puzzling comment by Ross has turned into reality for Matt.
Not only is Matt's celebrity status startlingly palpable, it is recognized by local Communist Party officials, who are eager to exploit it to gain "face", the concept of enhancing one's reputation among peers.
Via a Skype connection to Smethport, Matt related one incident where an official wanted him to attend a wedding. Not wanting to be disrespectful, Matt agreed. The official had him picked up and conveyed to the event, where he was displayed and fussed over. In this part of China, where few Americans tread, being seen with one enhances face.
Recently, Matt was invited to go to Hengshan Mountain, one of five holy mountains in China; this one held sacred by Buddhists and Taoists. The journey took three days by train. His guides – two young women with their own agenda – would not let Matt pay for his hotel room, meals, or transportation. "I had to fight to treat them to dinner," Matt said.
During the trip, the motives of the women became apparent. They tried to engage Matt in conversations about love, marriage, and children – without success. And when one of them tried to persuade Matt to enter a fertility temple with her, he had to draw the line.
In this holy place, Matt had his own agenda. He climbed a cliff and assumed the lotus position to meditate. In the process, he became the tourist attraction. Every camera seemed focused on the strange American, as if some new species of mountain goat had suddenly revealed itself. Soon the digital images would rocket around cyberspace to enhance the "face" of those fortunate enough to capture the moment.
Although Matt is genuinely surprised at his celebrity status, there are times when it is uncomfortable. He is always stared at in restaurants, and on one occasion a male patron interrupted his own meal to take a closer look. With barely a hair's breadth between them, the man took his time examining Matt up and down, as if trying to make sense of something that couldn't possibly be real.
Matt attributes this level of scrutiny to nutrition; specifically, to the low amount of protein in the average local diet. According to Matt, he gets the amount of protein in a single meal as most residents of Chenzhou get in a week. The result is that the average person looks underdeveloped in comparison. Westerners, who tend to grow up on high protein diets, would naturally stand out in Chenzhou and attract attention.
Tough being a stranger in a strange land… Like the time Matt was "invited" to leave his class to appear before the female chief of police for a look-see, or the time he entered a bar one night and all the ladies cheered.
Or the time he consoled a Chinese student who became distraught by something she had just read in Theodore Dreiser's An American Tragedy – that the American Dream was just an illusion.