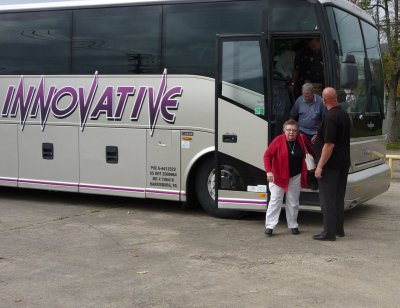 Smethport Web – by Nathan Muller
Last year, a Lowee's Group Tours motorcoach visited Smethport where 54 members of the Harrisburg Garden Club were treated to detailed tours of select homes in the Mansion District before heading out to Kinzua Bridge State Park in Mount Jewett to enjoy the fall foliage from the bridge overlook. That tour had sold out with a substantial waiting list. This prompted Lowee's to arrange two more motorcoach trips to Smethport, which will occur in October.
According to Jo Peachey, Lowee's Group Tour Coordinator for the North & Central Pennsylvania Region, the groups they deal with have traveled the world, and the consensus among last year's visitors was that Smethport was one of their best experiences.
The 2017 tour featured a cluster of three historical sites in Smethport:  St. Luke's Episcopal Church, the Charles Sartwell Mansion, and the Judge Joseph Bouton Mansion. The close proximity of these properties meant that more time could be spent at each location instead of on long walks getting to each location.
At St. Luke's, visitors were greeted by Pastor Joann and Bishop's Warden Dona Cooper. Both conducted various aspects of the tour, with Diana Anderson demonstrating the organ.
The owners of the Sartwell and Bouton homes acted as tour guides, opening all floors to visitors, while explaining the history, architecture, decorative details, and local lore about the original occupants.
"Visitors really enjoyed the personal interaction with the home owners," recalled Linda Muller, co-owner of the Bouton home. "You could tell by their questions that they brought with them a wide range of travel experiences. This made for some interesting conversations. We were very impressed with their genuine interest."
This year's motorcoach tour will begin at the Kinzua Bridge State Park, where the group will enjoy a catered lunch and a program presented by park staff at the new Visitor Center. After taking in the autumn colors from the Skywalk, they will depart for Smethport and arrive at around 1:30 pm.
Linda Devlin, Executive Director of the Allegheny National Forest Visitors Bureau, has been representing our region to tour companies for many years. In February, she attended the annual Heartland Travel Showcase in Buffalo, New York with Brianna Payne, the Bureau's Communications and Media Coordinator. This trade show caters specifically to tour operators.  At this and other events, Linda holds one-on-one meetings with operators to develop tours into the area.
Brianna Payne represented the Visitors Bureau at the 2018 Toronto Sportsmen's Show in March. Over 63,000 people attended the show. Among the literature given out about our region was the walking tour brochure for Smethport.
Linda notes that the interest in Smethport's Victorian past is part of a growing national trend. "There is increasing interest for everything Victorian," Devlin said. "Data compiled last year by Google Trends revealed that the Victorian style was the most searched design trend across the U.S. This represents quite a dramatic change in the country's taste, and Smethport is well positioned to benefit from that change."
Future plans of the Visitors Bureau include working with other tour operators, and hopefully other residents in Smethport who are willing to open up their historical homes for motorcoach tours. If you are interested in learning more about how your Smethport home or business can participate in future tours, please call the Visitors Bureau at 800-473-9370.