Smethport Web — by Annie Wolfe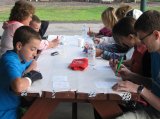 The Guidance Center's Big Brothers Big Sisters of McKean County held their Summer Picnic on July 16th at Hamlin Lake Park in Smethport. The Smethport Rotary Club sponsored the event.
Rotary Club members helped Big Brothers Big Sisters staff with set up, clean up, and facilitated the Bingo game. Patch Products, Smethport's local toy factory, graciously donated prizes for all who attended. Trooper Dan Woods of the Kane Based State Police conducted an interactive safety presentation for participants. Non-perishable food items were collected and donated to the Smethport Food Pantry.
Big Brothers Big Sisters of McKean County has 52 children waiting to be matched with a Big Brother or Big Sister. If you would like to volunteer with the Guidance Center's Big Brothers Big Sisters Program, please call locally: 814-887-5591 or toll free: 1-877-776-1636.
Share on Facebook
Smethport Web — by Barbara Bowman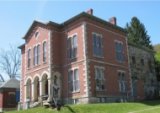 McPaint Time is a fun, relaxing way to socialize while being creative. During McPaint Time attendees complete an acrylic painting in two hours or less. You may make new friends and find a new hobby.
The first venue for McPaint Time was the Corner Pizza Company, Smethport. Ten people attended and painted a 10×10 acrylic painting of a cone flower. Some artists decided to paint their own creation: a door, an abstract, and a chicken. It was a blast and a lot of creativity was found! Read more
Share on Facebook
The Bradford Era — by Fran De Lancey
A new chapter for the county's housing agency will breathe new life into a blighted lot on Smethport's Main Street.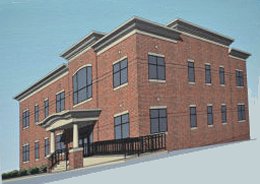 "Today, we celebrate the groundbreaking of our new office building, which when complete, will house the administrative offices of the McKean County Redevelopment and Housing Authorities," said Dusti Dennis, executive director of the agencies and A Partnership in Housing, during a groundbreaking for the Partnership in Housing Office Building in West Main Street in Smethport. Read More »
Share on Facebook
The Bradford Era — by Chuck Abraham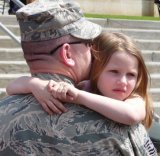 The keynote speech at the Smethport Memorial Day ceremonies on Monday morning recognized and thanked veterans, both living and deceased, for their military service.
Keynote speaker Rev. Frank Eppley, chaplain for VFW Post #2497 and pastor of Emmanuel Mission Church in Kane, was shot three times by the same enemy soldier before returning fire.
Eppley said it is critical to remember those soldiers who made the supreme sacrifice. "The finest tribute that we can pay our fallen comrades today is that they did not die in vain," Eppley said. "We must stand and pledge with our fallen comrades that liberty shall live on for all generations." Read More »
Share on Facebook
The Bradford Era — by Fran De Lancey
An honor ceremony and dedication of a Vietnam Veterans Monument will be held in Hamlin Lake Park on Saturday, May 31 at 3 pm. The granite memorial lists the names of the 18 servicemen from McKean County who died in the war. The monument also includes a Fallen Soldier statue and three flag poles flying the United States, POW/MIA and Vietnam flags. George Tufts will lead the honor guard for the ceremony. Read More »
Share on Facebook
Smethport Web — by Les Jordan, Jr.
The Sons of the American Legion Post #138 and the McKean County Legion Rider's are teaming up for a special Vietnam Veteran's Ride of Pride on May 31.
The honor ride this year will take the original course of the huge cavalcade that occurred when the Vietnam Moving Wall arrived in Smethport in 2006. 
The ceremony in Hamlin Lake Park will dedicate a new stone monument dedicated to veterans from McKean County who died while serving their country in Vietnam. The monument is made possible by donations from veteran's group and private individuals.
Details of the Ride of Pride are as follows: Read more
Share on Facebook
Smethport Web — by Barbara Bowman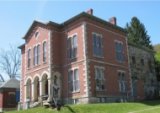 The McKean County Historical Society and Old Jail Museum are looking for volunteers. The Society has a variety of opportunities for volunteers to be involved. There are displays to keep updated, a gift shop to manage, tours to be given, and artifacts to be preserved, and much more. We are looking for creative and steadfast volunteers who are not afraid to be involved and who will share their knowledge and expertise. We are also open to group volunteers for special projects.
We are hoping to accomplish getting the museum and all its contents more organized. If organization is your skill, call us today at 814-887-5142.
Perhaps you would like to be involved with special projects. If we do not have a project you find interesting, you may bring all suggestions to the next meeting, June 10 at 1:00 at the Old Jail Museum.
Remember, the McKean County Historical Society is your historical society. It belongs to the county and houses many McKean County treasures. Come see what's happening. Mark your calendars and help make our Museum even better than it already is.
Share on Facebook
Smethport Web — by Nathan Muller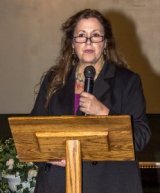 The Smethport Area Chamber of Commerce held its 13th Annual Business Dinner on Thursday at the Court of Angels Restaurant. The theme of this year's event was "Celebrating Entrepreneurship & Free Enterprise".
The Chamber announced its participation in a summer program called Pennsylvania Free Enterprise Week, which is now in its 36th year. More than 2,000 young men and women will attend one of its five sessions during July and August, including four Smethport Area High School student. Among them is junior Kristin Andrulonis, whose parents Christy and Jeff Andrulonis own and operate Bradford Speedway and Colonial Media + Entertainment. Program graduates qualify for $20,000 in scholarships. Read more
Share on Facebook
Smethport Web – Nathan Muller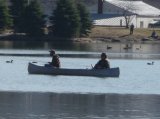 With the respite of winter weather, anglers of all ages swarmed the banks of Hamlin Lake on the opening day of fishing season. With the water still cold, the trout were ready to snap at pretty much anything cast their way.
As the day wore on, most folks seemed content with just enjoying a rare sunny day, and less concerned with snagging a trophy size trout.
But a whole season of fishing awaits Hamlin Lake and nearby rivers and streams. That means there's a big story waiting to be told.
Share on Facebook
Smethport Web - by Nathan Muller
Patch Products in Beloit, Wisconsin has announced that its toy factory in Smethport, Pennsylvania will close as of February 28, 2014.

The facility, known for producing the locally-invented, world-famous Wooly Willy magnetic toy, will impact 15 employees. Positions include both management and those working the assembly line.
"While the decision to close the Smethport, Pennsylvania facility was a difficult one, it is important for the long term health of the organization. As we evaluate the trends of the toy industry and the needs of the future, we felt it was important to consolidate our manufacturing facilities." said Brian Maxwell, President of Patch.
"I want to thank our employees for their service and dedication to Patch. This is a difficult time, and we're doing everything possible to provide support to those affected," said Maxwell.
According to Patch, employees whose jobs have been eliminated have been provided a severance package and resources to assist them in their job search.
While Patch Products has been moving some toy production to China in recent years, a spokesperson for Patch Products said the company intends to produce the original Wooly Willy magnetic toy, invented in 1955 by Smethport's Jim Herzog, at its plant in Beloit.
Herzog noted that Smethport had been an ideal location for a toy industry for many years. He said the community was central to the population of the United States, offering good resources in the form of supplies and talented employees.
"Obviously I find the firm's demise a sad occasion for those still employed and for the community in general," said Herzog. "I do hope a new industry can be found that will enjoy the same support given the firm when I was involved over 20 years ago."
Reflecting on the current situation, Herzog said the toy industry thrives on new products, either evolutionary or revolutionary. "Even though Wooly Willy gave Patch a good base product, it was no longer capable of supporting the company on its own merits."
Smethport Mayor Wayne Foltz had concerns that this day might come based on downsizing and the direction many manufacturing companies are going today.
"When I read it to be fact my heart sank," said Foltz. "While I won't pretend to know the heartache of the employees about to lose their livelihood, I do hope the best for them. There is sadness and shock within the community, but I know in the end our community and its citizens will get through this," he said.
"Thank you to the Herzog family, especially Wooly Willy creator Jim Herzog, for giving Smethport such a great place for employment and Patch Products for continuing that for as long as possible," said Foltz. "Best regards to all and remember that the Wooly Willy heritage will never disappear. "
See related story in Bradford Era.
Share on Facebook