Smethport Web - by Claudia Caminite
If you are looking for a unique and original gift, the McKean County Historical Society announces a pre-holiday sale of a variety of items at the Old Jail Museum Gift Shop, 502 West King Street, Smethport, PA.
There are many historical books and locally written books, hand-made jewelry, woven rugs, knitted hats and scarves, and wooden crafted shelves. There are unique gift items galore.
Pat Rogge, a volunteer for many years, who was a civil servant employed by the Smithsonian, Washington, D.C., donated four signed, matted, and framed prints by Don Cannovaro, who is known for his drawings of our national monuments. Mrs. Rogge also donated a variety of prints she acquired at the Smithsonian Art Gallery. This wonderful collection is for sale.
An exciting new collection of paintings by local artist, Virginia Cherrington, is also available. Shoppers will also find matted, framed photos by Rocky Holland. Christopher Robbins's print "Made in the USA" is available.
This is the first sale at Old Jail Museum Gift Shop, behind the McKean County Court House, Smethport. The two day sale will be 11:00 AM until 6:00 PM, Wednesday, December 11 and Thursday, December 12. Light refreshment s will be served.
Share on Facebook
Smethport Web — News Desk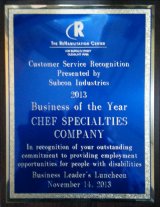 Chef Specialties Company, Inc. of Smethport, Pennsylvania was honored at a business leaders luncheon by The Rehabilitation Center of Olean, New York for their support of the Center's mission through the SubCon Industries division. During the luncheon, Chef Specialties Company received the 2013 "Business of the Year" Award.
The ceremony was held at the St. Bonaventure Country Club on Thursday, November 14, 2013. Jack and Mary Pierotti represented Chef Specialties Company.
SubCon Industries is a non-profit organization that provides employment-training opportunities for 200 adults with disabilities. The company is dedicated to developing their vocational skills, and good work habits, to help them achieve their individual goals. Chef Specialties Company has partnered with SubCon Industries for the last twenty-five years providing clients the opportunities to earn a living by filling and packing some of Chef's pepper mill and salt mill products.
Chef Specialties Company was founded in Detroit in 1940. The company was moved to Smethport from Kane in 1974 when the Pierotti family purchased the assembly operation. The company had been making metal parts for the pepper mills before that time.
The company is the largest supplier of pepper mills to the Foodservice Industry. Chef Specialties Company sells through large food supply distributors such as US Foods, Edward Don Company, Sysco Corporation, Gordon Foods, US Foods, Wasserstrom, SEFA, and many others. In turn, these distributors then sell to individual restaurants and restaurant chains.
Chef Specialties Company mills will be found in TGI Fridays, Longhorn Steakhouse, Outback Steakhouse, and many more. The Professional Wood mills are also used in the White House kitchens.
On the retail market side the company supplies many small gourmet shops, grocery chains, and online sites such as Target, The Chef's Catalog, The Wine Enthusiast Catalog, Woodcraft, and Amazon.com.
Share on Facebook
Smethport Web — by Theresa Putnam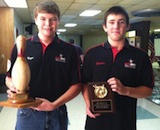 The DuBois Lanes hosted the second District 4 Youth Gold Pin Youth Bowling Tournament Sunday afternoon with Wayne Putnam of Cyclone (series of 640) claiming the title.
Twenty-two bowlers bowled a three-game qualifying round with the top five bowlers matching up in the step ladder finals.
Ryan Mitskavich of DuBois was the No. 1 seed with a 662 series. Mitskavich and No. 3 seeded Jacob Amster of Smethport, with a series of 631 also tied for the high game of the day with a 258.
The day's first match pitted DuBois' Thomas Grecco, No. 5, against No. 4 Brandon Orsich of Clearfield. Orsich outscored Grecco 235-210. Orsich moved onto the second match against Amster and won by a score of 222-156.
Orsich's run came to an end in match three as Wayne Putnam of Smethport put on a four-strike streak in the middle of the game to win by a score of 211-181. This set up the finals with Putnam building up a comfortable lead on Mitskavich early. Mitskavich fought back to force Putnam to make a good count in the final frame. Putnam left a split, but was able to pick up one pin to score the 185-183 first place win.
The Gold Pin Tournament was set up by Clearfield youth coach, Don Barr, with girls qualifying in their leagues by bowling a 550 series and boys a 600 series. Each district house was also afforded one non-qualifying position for this tournament. Barr is looking to expand on this tournament in the future, and possibly making this a scholarship earning tournament.
The next tournament will be held in the spring of 2014 at Clearfield Lanes. District 4 bowling centers include Bradford, Brookville, Clearfield, DuBois, Emporium, Kane, Philipsburg and St. Marys.
Share on Facebook
Smethport Web — by Nathan Muller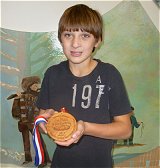 This year's Wheel Around the Hub Cycling Races, held on September 14th, featured a new Junior Mountain Bike Class for cyclists aged 12-13, 14-15, and 16-17, who participated in the one-lap 7.5-mile race.
Following the event, awards were presented during an outdoor barbeque celebration hosted by the Smethport Fire Department. Everything went smoothly, except that one 1st Place medallion for the 12-13 age class remained behind, unclaimed.
The medallion was finally united with its owner today at the Smethport Junior High School where Mayor Ross Porter and school principal Bob Miller officially presented it to Darion Gregory, son of Holly and Kirk Gregory of Smethport.
Initially worried about why he was summoned to the principal's office, Darion was surprised when told it was to receive an award. He said he expects to participate in next year's Wheel Around the Hub Cycling Races.
Share on Facebook
Smethport Web — by Annie Wolfe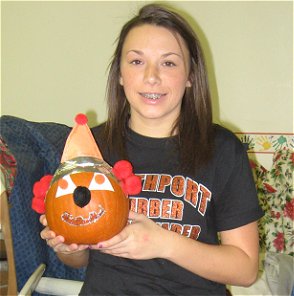 Make A Difference Day is the largest national day of community service. Earlier this month, millions of volunteers across the country united in a common mission to "be the change" they want to see in the world.
Over the past year and a half, Miss Megan Frontino has been volunteering her time with Big Brothers Big Sisters as part of her Senior Project. On Saturday, she completed her last event with us as part of Make A Difference Day. She helped our Bigs and Littles decorate pumpkins, which were then given to Kane Lutheran Home residents as a gift later in the day.
We've been lucky to have her with our organization and would like to thank her for all the help she's given us.
Share on Facebook
Smethport Web — by Nathan Muller
Friday evening Smethport celebrated Homecoming Day with a parade down Main Street. Retired biology teacher Bill Stephens, led the parade as Grand Marshal, followed by student Grand Marshal Escorts Abbey Woodard and Will Perez. They were followed by High School principal Robert Miller and Smethport Area School District superintendent Charles Leasure. Read more
Share on Facebook
Smethport Web — by Nathan Muller
Saturday started ominously with the threat of rain, but by race time at 12:00 noon, dark clouds gave way to sunshine and a comfortable 60-degree temperature.
The speed of the weather change seemed to set the stage for the 53-mile circuit, where speed records were shattered by both the men and women.
Representing the NoTubes Race Team, 32-year-old Jeremy Wickham of Corning, New York, posted a new course record of 2:05:41.57. Jeremy was the 1st Place winner in the 2011 Wheel Around the Hub race.
He was closely followed by 37-year-old Steve Wells from Orchard Park, New York, representing MVP Health Care Cycling. Steve posted a time of 2:05:42.06 – just 9 milliseconds behind Jeremy.
Third place was claimed by 53-year-old Marc Polsinelli, representing TDI Zuck Bikes in Mississauga in Ontario, Canada. He posted a time of 2:05:42.21. Read more
Share on Facebook
Smethport Web — by Lisa Chapman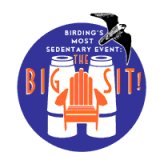 On Saturday, October 12, the Allegheny Highlands Bird Club will be participating in the international event — The Big Sit — and extends this open invitation for all to drop by. The event is described as a "tailgate party for birders" and is a lot of fun! No expertise required, just a desire to have a good time.
What is it? We will define a 17-foot diameter circle, set up lawn chairs, get the coffee out, and proceed to find as many different species of birds as possible from this circle. All birds must be spotted from inside the circle to count, but binoculars and telescopes help. From 20 to 30 different species could reasonably be expected. The last "sit" at this location found 23 species.
We would love to have you join us, but if you can't and would like to help the club raise money for bird conservation projects like nest boxes, you can make a PLEDGE. Just contact lisa.chapman66@yahoo.com or call 465-6018 and pledge any amount for each species seen, or make a flat contribution.
See you at the park!
Share on Facebook
Smethport Web — by Nathan Muller
Family Life, a Christian radio network based in Bath, NY, has extended its reach with 104.9 FM—a new translator station that started broadcasting out of Smethport last week. The signal covers the Borough and portions of McKean County.
Rick Snavely, president and network manager of Family Life said, "We're so thankful for the opportunity to grow our audience and bring Family Life to Smethport listeners. People are growing more and more desperate for hope in an increasingly dark world. The Gospel is that hope, and spreading its message to more homes and workplaces is a privilege and joy we all celebrate here."
The listener-supported Christian radio network consists of 22 stations and 50 translators serving regions of Pennsylvania and New York, reaching a potential listenership of 3.8 million.
Family Life Radio airs a mix of programming including contemporary Christian music, Biblical teaching, daily news, and drama for kids and families.
For more information on Family Life, visit www.fln.org.
Share on Facebook
Smethport Web — by Nathan Muller
Two term Smethport Borough Mayor Ross Porter announced today that he will not seek a third term due to health complications resulting from a near fatal, 2009 vehicle accident.
During his tenure as mayor of Smethport, Porter directed the switchover of the Borough electric supplier from Select Energy to American Municipal Power of Columbus, Ohio resulting in the rebuilding of the Borough's capital reserve fund without having to raise Borough taxes.
Porter's other accomplishments included the initiation of the Potato Creek Trail Association, Smethport Creative Arts League, Smethport Historic Registry, Smethport Board of Trade, Smethport's interpretive signage of historic events, the Wheel Around the Hub Gold Watch Bicycle Race, as well as numerous other grants and projects.
Porter is the originator and long time director of the Planet Smethport historical geography web project, www.smethporthistory.org and the editor of Timeless Home Smethport, Pennsylvania, a comprehensive history of the Borough of Smethport.
Ross and his wife Jovanna own and operate the Mansion District Inn Bed and Breakfast and the Pennsylvania Wilds Executive Suites & Rentals, both located in Smethport.
Share on Facebook