http://www.gestiona.es/adobe-creative-suite-6-design-web-premium Adobe creative suite 6 design web premium
http://best-college-essays.com/essays-on-moral-values-in-our-life Essays on moral values in our life
Best price Microsoft MapPoint 2006 Europe software
http://www.abckambodza.pl/where-can-i-buy-adobe-creative-suite-55-production-premium-mac Where can i buy adobe creative suite 55 production premium mac
Smethport Web — by Barbara Bowman
The McKean County Historical Society and Potato Creek Trail Association are sponsoring an Earth Day Walk to the Poor Farm Cemetery at 10:00 am on Friday, April 22. The Historical Society and PCTA are partnering with Good Growing Gardens, which is also holding an event.
Those participating will meet at the Domestic Relations Office in the County Complex on Route 6, Smethport, PA. The group will walk the new county trails to the Marvin Creek Bridge Dedication.
After the ribbon cutting ceremony, the group will walk to the Poor Farm Cemetery for an informal presentation about some of those buried in this peaceful spot.
If you are interested in telling the story of one of the dead, please contact the McKean County Historical Society at 814-887-5142.
The events are free and open to the public.
Share on Facebook
Colonial Media and Entertainment, an integrated marketing organization headquartered in Bradford, PA, has announced the appointment of Megan Simms as Chief Revenue Officer for the rapidly expanding Company.
As CRO, Ms. Simms will have general oversight of the Company's revenue generating strategies. Additionally, Ms. Simms will work with the Market Managers in each of the Company's three markets to build and coach the local sales teams to both develop new business and increase the Company's value proposition to current advertisers.
Colonial Media + Entertainment Chairman/CEO Jeff Andrulonis is pleased to have found a Chief Revenue Officer without having to leave the building. "Megan has been serving as Director of Sales for the Olean and Bradford markets and that experience has prepared her for this challenging new role. We're thrilled to be able to promote from within the organization."
Share on Facebook
Smethport Web — by Nathan Muller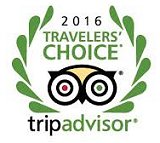 TripAdvisor has honored the Mansion District Inn B&B in Smethport, Pennsylvania with its 2016 Travelers' Choice® award as one of the Top 25 Best Bed and Breakfasts in the United States. This six-suite boutique inn, owned and operated by Ross and Jovanna Porter, placed Number 1 in Pennsylvania and Number 9 nationwide.
Top 25 B&Bs and Inns — United States
According to the Professional Association of Innkeepers International, there are about 17,000 B&Bs in the U.S., with an estimated value of $3.4 billion.
To be recognized by TripAdvisor two years in a row in this very competitive market demonstrates a complete understanding of guest needs by the Porters as well as their unique ability to deliver an exceptional experience — not just most of the time, but every time.
This review posted on TripAdvisor by a couple who stayed at the B&B in November is representative of the hundreds of excellent guest reviews the Porters have received:
My husband and I spent two relaxing nights and two wonderful breakfasts with Jovanna and Ross and we couldn't have had a more enjoyable stay. Their warm hospitality and beautiful home was really a special treat. Their home has so many treasures to enjoy and the view from every room was so lovely. It was our first time in Smethport and Ross was so knowledgeable about the history of the town. I know that we will definitely return. I feel like we really made friends. I must tell about the breakfast, It was a feast for the eyes and well as being very delicious. We had dietary needs that were no problem for Jovanna. She made us feel like special guests. God Bless them both.
TripAdvisor is the world's largest travel website, with more than 290 million reviews and opinions by travelers around the world. Now in its 15th year, TripAdvisor Travelers' Choice awards honor the world's best accommodations, earning their reputations from those who know them best – real travelers. This year's Travelers' Choice Awards are based on reviews and opinions collected in 2015 from among more than 950,000 reviewed hotels, B&Bs and specialty lodgings on TripAdvisor sites worldwide.
"We weren't expecting to even place on the TripAdvisor list this year," said Ross Porter. "It's not something you apply for and typically there is a lot of turnover on the list."
The award-winning B&B was once the home of Reverend John Heber McCandless and his wife Emma Hamlin McCandless, daughter of banker/businessman Henry Hamlin, who was reported to be the wealthiest private banker in the United States in 1892. The home was built in 1891 and remained within the Hamlin family until 1992. It was purchased by the Porters in 1995.
Share on Facebook
Smethport Web — by Nathan Muller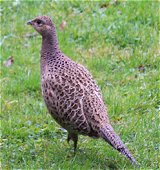 The Pennsylvania Game Commission released over 200,000 ring-necked pheasants for the fall small-game hunting season, with McKean County getting 580 cocks and 1,370 hens.
As a result, pheasants are becoming a more common sight in Smethport. Residents may occasionally spot a nye of pheasants in the most unexpected places like backyards, where they may be seen rummaging through abandoned flower beds and vegetable gardens.
Pheasants have even been seen crossing Main Street, forcing traffic to slow down. A bird hit by a vehicle should be reported if it has a leg band. The toll-free number stamped on the tag is used to report the date and location. This information goes into a study on pheasant harvest rates, along with hunter-provided information.
A similar study on pheasant harvest rates was conducted in the fall of 1998, which found about 50 percent of pheasants stocked by the Game Commission were harvested.
The Game Commission will use the results of this fall's study, not only to determine pheasant harvest rates, but also to assess opportunities to maximize the number of hunter-harvested pheasants through changes in stocking strategies.
The general pheasant hunting season closed on November 28. The late season opens Monday, December 14.
Share on Facebook
Smethport Web — by Mandi Wilton Davis
It's not too late to make a lasting impact on the lives of so many in the Smethport community. As the holiday season is upon us, we are reminded of just how thankful we are for all we have been blessed with, and our thoughts turn to those in need.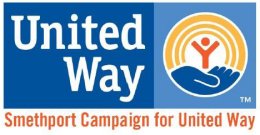 We are inching so close to our goal of $15,000, having raised more than $13,000 so far. We expect more agencies to look to the Smethport Campaign for United Way to make their programs and services possible; agencies that are heavily relied upon in this community.
Here is one great example of what your donations are doing to impact our community, from Lori Rounsville:
"The Hamlin Library depends on the United Way for our Summer Reading Program t-shirts, as well as craft supplies, both for summer reading and our monthly family night program. We average 85 kids for summer reading — if they attend four times, they get a t-shirt, free, thanks to UW. We could never afford to buy them ourselves and many of the families would not be able to purchase them. Our monthly family night programs have variable attendance, but the one of the most popular is Plate Night. It's usually our first one in October—this year over 60 people attended. The kids/family design a plate and it's sent out to the MAKIT company. They get a keepsake that lasts virtually forever. The United Way underwrites one plate/family…additional plates are $6. The United Way has a HUGE impact on our programming — and our library in general!"
We ask that you give serious consideration to making a donation this year. It is easy to make a difference in someone's life… To make a pledge or generous donation to the Smethport Campaign for United Way, call 814-368-6181.
Share on Facebook
Smethport Web - by Nathan Muller
The Holiday season in Smethport was officially opened with the annual Christmas Tree Light-Up on Saturday evening sponsored by the Smethport Area Chamber of Commerce.
A record crowd of almost 200 people showed up at the northeast corner of Main and Union Streets to join the festivities. Cheers greeted Santa Claus as he arrived on the scene under police escort.
Five high school students under the direction of Matt Bailey, Director of Bands for the Smethport School District, entertained with holiday music, after which Smethport Mayor Wayne Foltz read the official Borough Proclamation. This was followed by a count-down for the lighting of the tree by Santa. Read more
Share on Facebook
Smethport Web — by Nathan Muller
A lot has changed on Main Street, since the June 2014 groundbreaking of the new building for McKean County Housing and Redevelopment Authorities.
The three-story, 15,660-square-foot structure adheres to the recommendations described in the Pennsylvania Wilds Design Guide, which encourages maintaining the historic architecture in the region. The result: the building looks like it has always been in Smethport.
Since construction started on the building, there has been a flurry of activity on Main Street. Several storefront facades have undergone restoration or improvement. A dangerous building was demolished. A new road surface was put down and finished right before the Wheel Around the Hub races. Sidewalks have been repaired and ADA-compliant ramps installed at street corners.
McKean County Housing and Redevelopment Authorities held a well-attended open house in September. Staff provided tours of the building and distributed literature about the services the organizations provide, which include promoting community development projects and administering Community Development Block Grants (CDBG) that assist communities with infrastructure and rehabilitation projects.
The building also has offices for The Guidance Center, based in Bradford, which is committed to the development and provision of comprehensive mental health.
The structure represents the largest investment on Main Street since construction of the Grand Central Hotel, which was built in 1881 on the same site and destroyed by fire in 1899.
Share on Facebook
The Smethport Area Chamber of Commerce is pleased to announce that Megan Simms, Director of Sales at Colonial Media and Entertainment, has been named as the organization's new Vice President.
Since joining Colonial in January of 2012, Megan has been working closely with business owners in Pennsylvania and New York to help them develop media strategies that include Retail, Radio, TV, and Event Planning.
In addition to supporting and mentoring her growing team at Colonial, Megan co-hosts "The Hot Mess Morning Show" on The Mountain, which can be heard on FM stations 106.3 and 98.7.
Megan graduated from Geneva College in 2008 with a BA degree in Communications: Integrated Media in 2008. After spending some time abroad, she applied her knowledge and skills in Sales, Marketing, and Management to assisting clients throughout the region, including Pittsburgh, Coudersport, and Olean.
Megan's passion and love rests strongly in her family and in her faith in Jesus Christ that over the years have guided her through each successful adventure.
Share on Facebook
Smethport Web — by Ross Porter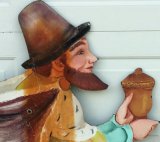 The donation from Seth and Lynn Digel was magnificent for the Hamlin Memorial Library's 2015 Auction during March. The Digel's donated an extremely rare, and much sought after, 1950s hand-painted Smethport Johnson nativity scene.
Entrepreneur Leonard Brynolf Johnson began producing unique, hand-painted Christmas displays as early as 1936 and by the 1950s Johnson's "Christmas Store" was shipping the artisan created displays - both religious and Santa Claus secular - internationally. His unusual displays were even shipped to the United Nations in NYC and to the Hague in the Netherlands. So when the Digels brought the original display to the Hamlin Library the directors were thrilled.
But there was one problem… Read more
Share on Facebook