Smethport Web — by Ross Porter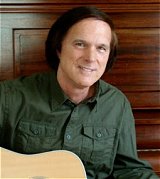 THIS EVENT HAS BEEN CANCELED DUE TO A HEAVY RAIN FORECAST
The classic rock band "Every Tom, Jeff and Larry" comes to the Smethport Chamber's Wooly Willy Wonderdaze Street Dance this Saturday night from 7:30 -10:30 pm. The band, featuring musicians Tom Shaffer, Jeff Kazimer, and Larry Herbstritt, will perform a very danceable, listenable and memorable musical journey through the 1960s and 70s. Bring your coolers, chairs and dancing shoes.
Coudersport, PA native Larry Herbstritt, "songwriter for the stars," is lead for the band.
Larry burst onto the local scene as "Ollie," the leader of the '60s rock band Ollie and the Go Gos. He went to become a prominent songwriter and music arranger. Some of his compositions, include "I Just Fall in Love Again" and "Cowboys and Clowns," became number one hits, performed by Anne Murray and Ronnie Milsap, respectively.
He continues his songwriting career with ties to Nashville and Los Angeles. Among his accomplishments as a songwriter, arranger and producer…
Wrote the hit songs:
"I Just Fall In Love Again" - Anne Murray
"Cowboys And Clowns" - Ronnie Milsap
"Easy Love" - Dionne Warwick
"Fire In The Morning" - Melissa Manchester
Score Composer for:
Dudley Do-Right
Alien Nation
Spenser for Hire
Murphy Brown
Tequila Body Shots
Murder She Wrote
Bronco Billy
Growing Pains
Just the Ten of Us
Major Dad
Rustler's Rhapsody
Waltz Across Texas
Orchestration credits:
Complete Score for: Blast from the Past
Warner Brothers Feature: Maverick
20th Century Fox feature: That Thing You Do
Warner Brothers feature: Pure Country
Hallmark Hall of Fame movie: Rose Hill
Hallmark Hall of Fame movie: Cowboy Dad
Feature film: Dancer Texas
Plan on attending the street dance/concert this Saturday night, June 27 in the 400 block from 7:30-10:30 pm.
Share on Facebook
Times Publishing Company — by Mike Bleech
My wife, Jeri, and I made an overnight trip to fish Marvin Creek in Smethport recently.
As it happened, that was just the right amount of time to find the trout and enjoy an excellent morning of fly fishing, with an overnight stay at a bed-and-breakfast rated as one of the best in the country.
Friday afternoon was spent hopping from access to access along Marvin Creek. This medium-size trout stream flows alongside Route 6, starting a little east from Mount Jewett. It is very well stocked with brown trout and rainbow trout from Hazelhurst to where it flows under Route 6 at Smethport. There, a small dam forms Hamlin Lake, which also is well stocked.
After flowing out of Hamlin Lake, Marvin Creek soon empties into Potato Creek at the opposite end of Smethport. Potato Creek and some of its tributaries also are stocked with trout. Read more
Share on Facebook
Smethport Web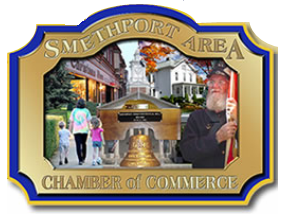 The Board of Directors for the Smethport Area Chamber of Commerce has announced officers for the 2015 - 2016 term:
President
Vicki Dunkle - Corner Bistro & Pizza Company
Vice President
Barbara Gee - Sena Kean Manor
Treasurer
Michael Montecalvo - Northwest Savings Bank
Secretary
Nathan Muller - Ascent Solutions
Director
Phil Smith
The Chamber organizes and sponsors over a dozen events and projects that promote the rich heritage of the community, making Smethport an attractive place to visit, do business and raise families.
The organization sponsors student scholarships to the PA Free Enterprise Week program at Lycoming College in Williamsport, Pennsylvania. Students receive more scholarship funds for attending the program and become eligible for an additional $20,000.
This summer, the Chamber will underwrite 5 scholarships to attend the PA Free Enterprise Week program. The following Smethport High School juniors have signed up for the program: Shania Anderson, Autumn Haney, Natalie Mix, Andrienne Nannen, and Stone Page.
Other Chamber activities include: sponsoring the annual town-wide yard sale, organizing the annual street dance, supporting area businesses with advertising in the Bradford Era and ANF Visitors Bureau literature, promoting Smethport with the Mansion District Walking Tour Brochure, organizing "Business After Hours" events at local establishments, sponsoring Christmas "Light Up Night" activities, publicizing member events through websites and social media, offering free banner ads for businesses on the Borough website, maintaining two literature kiosks, updating the Chamber and Borough websites, and contributing to other community events such as the Easter Egg Hunt and Wheel Around the Hub Cycling Races.
Businesses and other organizations that would like to join or renew their membership for 2015 - 2016, may do so at any time by submitting the membership form.
Questions about Chamber activities may be directed to Nathan Muller at 814-887-4134 or njmuller@comcast.net.
Share on Facebook
Smethport Web — by Nathan Muller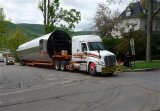 Smethport has grown accustomed to big rigs passing over Main Street, especially since the oil and natural gas boom in recent years.
Occasionally, these behemoths have knocked street lights out of commission, overturned utility poles and signs, and mangled countless tree limbs along their crawl to destinations far away.
The hairpin turn from Marvin to Main Street has proven to be a formidable challenge for most truckers, with some achieving success only after several trial-and-error attempts. Tired of the long wait, vehicles in both directions usually give up and head for the side streets.
This week, an unusually long flatbed approached the hairpin hauling a stainless steel silo of titanic size headed for Mainesburg. Instead of hoping for the best, the truck driver and escort crew pulled over well ahead of the turn and got out to plan the approach.
The plan included using the flatbed's hydraulic lifters to clear the slope on Marvin Street on the way to Main Street. The degree of difficulty was such that Smethport Police Chief Pat Warnick was on the scene in case things didn't go as planned.
After everyone returned to their vehicles, the flatbed moved according to plan, making a slow but perfect turn onto Main Street, leaving onlookers quite impressed with the driver's skill.
Click on the image above to view the slideshow documenting this outstanding performance.
Share on Facebook
Smethport Web — by Nathan Muller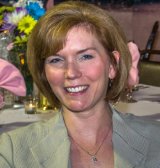 The Smethport Chamber held is 14th annual business dinner Thursday at the Court of Angels Restaurant. Sixty-six attendees enjoyed a fine buffet dinner and music by pianist Emma Mader.
Guest speaker Dusti Dennis, Executive Director of the McKean County Redevelopment and Housing Authority, discussed the organization's new building under construction on Main Street. Dennis noted that the structure represents the largest investment on Main Street since the Grand Central Hotel, built in 1881 on the same site and destroyed by fire in 1996.
Dennis said the Housing Authority has outgrown its current location on E. Water Street where files have to be moved off-site, parking is inconvenient, and access is often difficult. The new three-story building will have over 15,000 square feet of office space, plenty of parking in the rear, and wheelchair access in the front. Read more
Share on Facebook
Smethport Web — by Annie Wolfe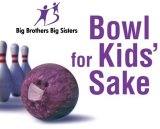 The Guidance Center's Big Brothers Big Sisters Program would like to thank the businesses and individuals who participated and donated in Bowl For Kids' Sake 2015. Bowl For Kids' Sake is our largest annual fundraiser that took place on March 28, 2015 at Byllye Lanes in Bradford. Funds raised will support ongoing professional match support for one on one matches between adult volunteers and youth in need of an additional positive adult role model throughout McKean County.
A total of 224 bowlers attended this year's Bowl for Kids Sake event. With individual bowler donations and business sponsorships, Bowl For Kids' Sake raised a total gross amount of $19,215 for McKean County mentoring services. Additional in-kind donations including prizes, food, banners and other supplies, valued at approximately $3,930, supported the event's success. Individual bowlers brought in $12,635 while business sponsors donated an additional $6,580. Read more
Share on Facebook
Smethport Web — by Nathan Muller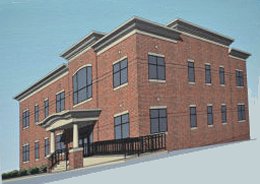 The Smethport Area Chamber of Commerce will hold its 14th Annual Business Dinner on Thursday, April 23rd.
Guest speaker Dusti Dennis, Executive Director of the McKean County Redevelopment and Housing Authority, will discuss the organization's new building under construction on Main Street and its potential economic impact on Smethport.
Four Smethport High School seniors will share their experiences attending last year's PA Free Enterprise Week program at Lycoming College. Ryan Woodring, Kristin Andrulonis, Ahnna Nelson, and Scott Master participated in the program under scholarships funded by the Smethport Chamber.
In addition to introducing the new Chamber Board of Directors, several awards will be presented:
Rainy Day Farm – Business of the Year
Les Jordan, Jr. – Volunteer of the Year
Memorial Recreation Center – Community Service Organization of the Year
The dinner will be held at the Court of Angels Restaurant in Smethport starting at 6:00 pm. Chamber membership is not required. Music will be provided by Emma Mader. Dinner is $25 per person. Attendees may bring their own beverages.
Share on Facebook
Smethport Web — by Barbara Bowman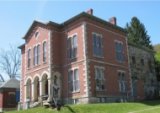 McPaint and McCraft are two hours of fun and creativity at different venues within McKean County sponsored by the McKean County Historical Society.
During each session, participants will complete something creative to take home. Each month there will be a different activity in a different location.
Changing locations gives participants an opportunity to go somewhere they may be familiar with or go somewhere they may have never been. This is a win-win situation for participants and proprietors.
Last year's events were well attended and a lot of fun. Participants created many beautiful paintings and crafts. Read more
Share on Facebook
Pennsylvania Magazine - by Sharon Watts
We've all heard of one-industry towns. Up until last year, the borough of Smethport in McKean County was home to a one-town industry, thanks to the production of a simple toy known to baby boomers as Wooly Willy.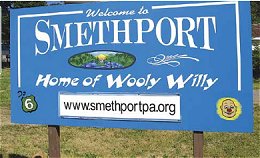 Recently voted one of the top-40 toys from the 1950s through the 1980s, Wooly Willy is an unlikely success story. It consists of a piece of cardboard featuring a funny-looking, bulbous-nosed, bald-headed "everyman" that can be "drawn on" with a magnet, shaping black powder into a moustache, a goatee, hair or eyebrows. Read more »
Share on Facebook
Smethport Web — by Nathan Muller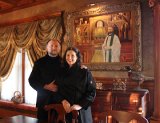 Ross and Jovanna Porter, owners and innkeepers of the Mansion District Inn B&B in Smethport, Pennsylvania are pleased to announce that their carefully restored Victorian era inn has earned TripAdvisor's 2015 Travelers' Choice® award as one of the Top 25 Best Bed and Breakfasts in the United States.
The B&B placed Number 1 in Pennsylvania and Number 7 nationwide.
TripAdvisor is the world's largest travel website, with more than 200 million reviews and opinions by travelers around the world.  Now in its 13th year, TripAdvisor Travelers' Choice awards honor the world's best hotels, earning their reputations from those who know them best – real travelers.  This year's Travelers' Choice Awards are based on reviews and opinions collected in 2014 from among more than 890,000 reviewed hotels, B&Bs and specialty lodgings on TripAdvisor sites worldwide. Read more
Share on Facebook