Smethport Area Chamber of Commerce
Please visit the Chamber of Commerce website for more information.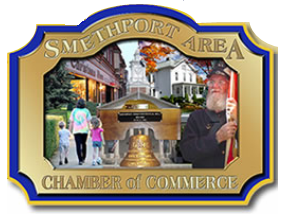 Want to promote your business?
If your business is located in Smethport, we'll host an advertising banner on this website at no charge! Send advertising copy, images, and contact information to advertising@smethportpa.org.
Don't miss this opportunity to use the power of the Internet to enhance your business. We'll even take care of all the design work for you!
Need business assistance? Another local resource is McKean County Economic Development
Sherri Geary
Director, Economic Development
17137 Route 6
Smethport, PA 16749
814-887-3107
Website: www.mckeancountypa.org
Email: smgeary@mckeancountypa.org