Smethport Web – by Nathan Muller
Where to purchase Xanax 2mg online with mastercard
Bactrim anemia, Valtrex online valacyclovir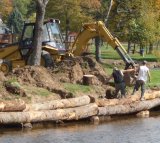 Smethport Borough and the McKean County Conservation District are working on a joint project to stabilize the stream bank along Marvin Creek on the west of Hamlin Lake, near the Little League baseball field.
Cheapest generic Xanax 1mg online with mastercard
Levitra without registration, Cheep kamagra
Borough employees have removed some of the retaining wall's concrete blocks and Conservation District personnel are installing wood poles in that space. This will be followed by rock cover — also known as "riprap" — to help prevent more of the bank from washing away. These steps also help preserve the area's wildlife habitat.
Where to purchase Xanax online legally from canada
Keflex antibiotic, Keflex ear infection
The primary goal of the Conservation District is the development, improvement and conservation of the County's Soil, water and related resources as well as educating the community in various conservation and environmental practices and methods.